Media Pack » 2014 Forward Features Schedule
| Month | Main Feature(s) |
| --- | --- |
| December 2013 / January 2014 | Earthmoving, Executive Hire Show Preview, Bridges |
| February | Concrete, Conexpo Preview, Interiors |
| March | Access & Scaffolding, Railways |
| April | Demolition, Roads |
| May | Quarrying & Aggregates, Hillhead Show Preview, Bricks & Blocks |
| June | Piling & Ground Engineering, Cladding & Insulation |
| July/August | Recruitment & Training, Utilities & Streetworks |
| September | Top 100, Steel Construction |
| October | Health & Safety, Heating / Ventilating & Air Conditioning |
| November | Plant Hire, Roofing |
Please note that this features schedule may change at short notice.
Editorial contact details: Phil Bishop, editor@theconstructionindex.co.uk
If you are interested in advertising, we recommend that you contact us as early as possible to secure best position. We are also happy to consider all editorial submissions, especially when accompanied by high quality photography.
Print Media Pack
Construction Index magazine is essential reading for main contractors, specialist contractors, plant hirers and many other organisations throughout the construction industry supply chain.
Access is available FREE in both digital and tablet formats. The magazine is also available in print format by annual subscription. The price for UK readers is just £35 a year for 10 issues. Sign up here.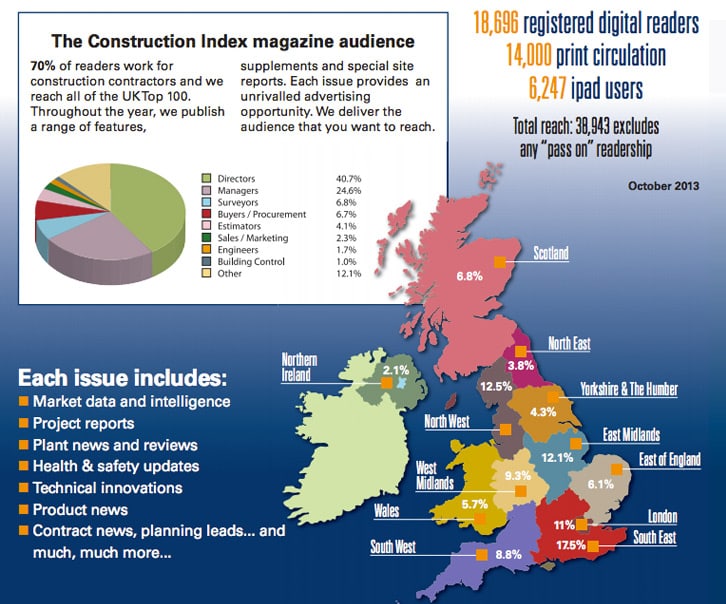 Advertising Rates
About The Construction Index
The Construction Index magazine is a monthly magazine for contractors, plant hirers, and other companies in the construction supply chain, with a circulation of more than 30,000. It is available in print (14,000), digital, or tablet format. The Construction Index website is the market leader in construction online media. Our traffic is 2.3m page views and 314,000 visitors a month, according to an audit by Hitwise Experian in October 2011. Our daily email newsletters have more than 20,000 daily subscribers & 13,000 for the weekly plant news bulletin.