Sub-contractor Pay Trends January 2012
Hudson Contract delivers the most accurate indications of pay trends across the construction industry, using payroll data for over 1,600 construction companies and over 95,000 freelance builders to publish the average pay for the full spectrum of 17 different trades across five regions.
According to the Construction Products Association, our sector is heading for a further deep recession.  Companies carrying out public sector projects face an especially tough time, with output expected to fall by 13 per cent this year, due to spending cuts. Private sector construction, which grew by 4.2% in 2011, is heading for a year of nil-growth.
"The climate is certainly cautious," comments Hudson Contract Managing Director David Jackson.  "Although having said that, last year ended on a positive note, with pay trends on the rise in every part of England."
Freelance builders in the South-West saw their earnings rise by 4.58% compared with three months earlier.  Elsewhere the increases were more modest:  2.63% in the South-East, 1.84% in the Midlands, 0.76% in the North-East and 0.45% in the North West.
What happened to freelance pay rates during 2011?
Overall, taking the five regions and the 17 trades, there has been an across-the-board increase of just over 5%, which works out at £31 per week.
"But before anyone gets too excited about that," continues David Jackson, "you have to consider that last year's inflation rate was around 5%.  So in effect, the rates have remained the same."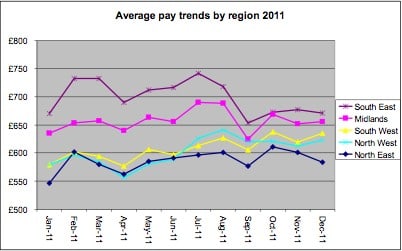 In fact, the South-West has done best, with average pay up almost 10%.  Even though freelance builders in the South-East are the nation's highest earners, their average pay over the past twelve months remained pretty much static.
Winners and losers in 2011 – trade by trade
Winners:
Demolition +20%
Steel & Timber Frame Erectors +18%
Bricklayers +7%
Losers:
Plumbers -7%
General Construction -5%
Roofers -2%
David Jackson comments:  "It's obviously not good that anyone who's self-employed is earning less than they were twelve months ago, I have to confess that I'm surprised earnings haven't been hit even harder, considering we know how costs have been squeezed in all directions.
"I think it goes to show that on average, freelance builders who deliver quality work, on time and to budget can still cover inflationary factors, and ultimately help provide the construction industry the flexible workforce it needs."
Hudson Contract's 'window on the construction industry' gives you hard figures and data that is not available from any other source, with pay averages that reflect the amounts paid by a sample number of businesses – large and small – to specific trades over the twelve weeks to 31st December 2011.www.hudsoncontract.co.uk
North East
| Field | Last month | 3 months ago | % shift o/12 wks |
| --- | --- | --- | --- |
| Bricklaying |  £462.16 |  £408.89 | 13.03% |
| Civil Engineering |  £586.91 |  £585.82 | 0.19% |
| Demolition |  £408.93 |  £502.87 | -18.68% |
| Electrical |  £632.76 |  £580.35 | 9.03% |
| Equipment & Operator hire |  £516.01 |  £520.54 | -0.87% |
| Fit out by specialist trades |  £684.03 |  £670.99 | 1.94% |
| General Construction |  £631.83 |  £559.88 | 12.85% |
| Insulation |  £615.26 |  £642.15 | -4.19% |
| Joinery |  £472.92 |  £470.25 | 0.57% |
| Mechanical |  £678.50 |  £665.24 | 1.99% |
| Plastering |  £630.50 |  £614.33 | 2.63% |
| Plumbing |  £666.52 |  £629.35 | 5.91% |
| Roofing |  £520.95 |  £482.23 | 8.03% |
| Scaffolding |  £465.02 |  £489.16 | -4.93% |
| Shopfitting |  £722.15 |  £781.24 | -7.56% |
| Steel & Timber frame erect |  £658.66 |  £585.29 | 12.54% |
| Surfacing contractors |  £564.95 |  £654.31 | -13.66% |
| Average |  £583.42 |  £578.99 | 0.76% |
North West
| Field | Last month | 3 months ago | % shift o/12 wks |
| --- | --- | --- | --- |
| Bricklaying |  £427.44 |  £510.88 | -16.33% |
| Civil Engineering |  £576.86 |  £553.86 | 4.15% |
| Demolition |  £660.32 |  £648.10 | 1.89% |
| Electrical |  £898.27 |  £817.67 | 9.86% |
| Equipment & Operator hire |  £675.96 |  £616.42 | 9.66% |
| Fit out by specialist trades |  £720.18 |  £617.93 | 16.55% |
| General Construction |  £611.35 |  £643.42 | -4.98% |
| Insulation |  £785.31 |  £798.81 | -1.69% |
| Joinery |  £535.80 |  £512.08 | 4.63% |
| Mechanical |  £520.81 |  £660.45 | -21.14% |
| Plastering |  £425.39 |  £490.85 | -13.34% |
| Plumbing |  £571.36 |  £542.15 | 5.39% |
| Roofing |  £609.20 |  £586.37 | 3.89% |
| Scaffolding |  £454.84 |  £462.44 | -1.64% |
| Shopfitting |  £953.73 |  £864.21 | 10.36% |
| Steel & Timber frame erect |  £531.69 |  £546.28 | -2.67% |
| Surfacing contractors |  £632.56 |  £671.63 | -5.82% |
| Average |  £623.00 |  £620.21 | 0.45% |
Midlands
| Field | Last month | 3 months ago | % shift o/12 wks |
| --- | --- | --- | --- |
| Bricklaying |  £593.25 |  £493.56 | 20.20% |
| Civil Engineering |  £688.12 |  £627.77 | 9.61% |
| Demolition |  £649.78 |  £623.65 | 4.19% |
| Electrical |  £687.24 |  £635.94 | 8.07% |
| Equipment & Operator hire |  £541.75 |  £639.57 | -15.29% |
| Fit out by specialist trades |  £540.83 |  £582.48 | -7.15% |
| General Construction |  £562.85 |  £557.64 | 0.93% |
| Insulation |  £581.62 |  £641.54 | -9.34% |
| Joinery |  £602.15 |  £638.05 | -5.63% |
| Mechanical |  £1,110.49 |  £905.28 | 22.67% |
| Plastering |  £716.41 |  £723.68 | -1.00% |
| Plumbing |  £561.40 |  £494.65 | 13.49% |
| Roofing |  £439.28 |  £421.19 | 4.29% |
| Scaffolding |  £581.00 |  £539.14 | 7.76% |
| Shopfitting |  £852.94 |  £937.76 | -9.04% |
| Steel & Timber frame erect |  £779.20 |  £855.09 | -8.88% |
| Surfacing contractors |  £654.84 |  £625.31 | 4.72% |
| Average |  £655.48 |  £643.66 | 1.84% |
South East
| Field | Last month | 3 months ago | % shift o/12 wks |
| --- | --- | --- | --- |
| Bricklaying |  £557.98 |  £544.59 | 2.46% |
| Civil Engineering |  £675.18 |  £618.63 | 9.14% |
| Demolition |  £499.66 |  £550.68 | -9.26% |
| Electrical |  £837.03 |  £742.28 | 12.76% |
| Equipment & Operator hire |  £674.71 |  £753.68 | -10.48% |
| Fit out by specialist trades |  £638.51 |  £777.87 | -17.92% |
| General Construction |  £647.30 |  £608.85 | 6.32% |
| Insulation |  £657.21 |  £704.99 | -6.78% |
| Joinery |  £640.25 |  £582.09 | 9.99% |
| Mechanical |  £789.32 |  £665.27 | 18.65% |
| Plastering |  £767.59 |  £707.57 | 8.48% |
| Plumbing |  £787.22 |  £721.04 | 9.18% |
| Roofing |  £587.51 |  £585.39 | 0.36% |
| Scaffolding |  £603.58 |  £623.81 | -3.24% |
| Shopfitting |  £888.56 |  £826.79 | 7.47% |
| Steel & Timber frame erect |  £581.16 |  £501.37 | 15.91% |
| Surfacing contractors |  £566.60 |  £592.57 | -4.38% |
| Average |  £670.55 |  £653.38 | 2.63% |
South West
| Field | Last month | 3 months ago | % shift o/12 wks |
| --- | --- | --- | --- |
| Bricklaying |  £457.41 |  £383.44 | 19.29% |
| Civil Engineering |  £572.13 |  £542.73 | 5.42% |
| Demolition |  £594.21 |  £565.76 | 5.03% |
| Electrical |  £615.01 |  £519.13 | 18.47% |
| Equipment & Operator hire |  £473.51 |  £438.55 | 7.97% |
| Fit out by specialist trades |  £705.60 |  £758.52 | -6.98% |
| General Construction |  £670.93 |  £591.75 | 13.38% |
| Insulation |  £615.98 |  £632.45 | -2.60% |
| Joinery |  £375.24 |  £305.20 | 22.95% |
| Mechanical |  £639.64 |  £761.07 | -15.96% |
| Plastering |  £793.20 |  £829.04 | -4.32% |
| Plumbing |  £571.00 |  £548.31 | 4.14% |
| Roofing |  £607.27 |  £562.79 | 7.90% |
| Scaffolding |  £605.92 |  £549.74 | 10.22% |
| Shopfitting |  £1,145.91 |  £1,184.75 | -3.28% |
| Steel & Timber frame erect |  £734.00 |  £641.28 | 14.46% |
| Surfacing contractors |  £590.95 |  £481.87 | 22.64% |
| Average |  £633.41 |  £605.67 | 4.58% |