Welcome to The Construction Index - Market Leading Website
The Construction Index is the leading online information source for the construction & building industry. It is free to access, with no subscription or registration pay wall.
The Construction Index websites attract more than 14 million visitors, viewing more than 30 million pages of construction-related information.
Our websites provide a wide range of content including: comprehensive coverage of the main news and issues affecting the construction industry; contract leads, tenders, and awards; in depth market forecasts; construction law analysis.
The Construction Index also features the UK's largest construction search engine facility, providing details of products and services from thousands of construction companies from across the UK.
Above is www.theconstructionindex.co.uk - Nov 2016
The Construction Index service is currently available in the UK, USA, Canada & France:
We plan to expand our reach thought-out 2017/2018 adding www.theconstructionindex.de
We know just how important targeted internet advertising and real tangible results are to our clients, we provide uniquely targeted and effective online marketing and representation for companies 24 hours a day, 7 days a week, ensuring our customers are being viewed by their ideal audience.
Advertising Rates
* The Standard Entry Position gains you entrance level advertising on The Construction Index. You may then choose to enhance your advertising with the advanced options listed above. An Enhanced Company Entry on the Construction Index will effectively allow you to promote up to 30 areas/search terms within your business for 12 months, 365 days per year.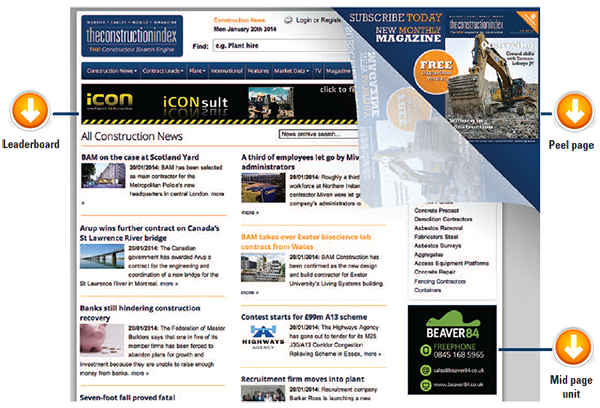 * Minimum booking of 50,000 page impressions a month. There is no upper limit on the number of slides per banner. however, the more you have the more this will increase the overall size of the file. all banner artwork must be submitted for approval five working days before going live. All banners can be supplied in either GIF or JPEG.
Banners to be included on email news letters must be static GIF or JPEG.
2017 Forward Features Schedule
| Month | Main Feature(s) | Also Including |
| --- | --- | --- |
| December 2016 / January 2017 | BIM | The Year In Review |
| February | Earth Moving | ConExpo Preview |
| March | Scaffolding/Access | Concrete |
| April | Demolition & Recycling | Site Services |
| May | Roads & Bridges | Plantworx Preview |
| June | Piling/Ground Engineering | Building Services |
| July/August | Rail | Bricks & Blocks |
| September | Top 100 | Steel Construction |
| October | Health & Safety | Roofing / Cladding / Insulation |
| November | Plant Hire | Attachments |
| December 2017 / January 2018 | Training / Recruitment | BIM |
Please note that this features schedule may change at short notice.
Editorial contact details: David Taylor, editor@theconstructionindex.co.uk
If you are interested in advertising, we recommend that you contact us as early as possible to secure best position. We are also happy to consider all editorial submissions, especially when accompanied by high quality photography.
Magazine Statistics
The Construction Index magazine is essential reading for main contractors, specialist contractors, plant hirers and many other organisations throughout the construction industry supply chain.
Access is available FREE in both digital and tablet formats by clicking here. The magazine is also available in print format by annual subscription. The price for UK readers is just £50 a year for 10 issues. Sign up today by clicking here.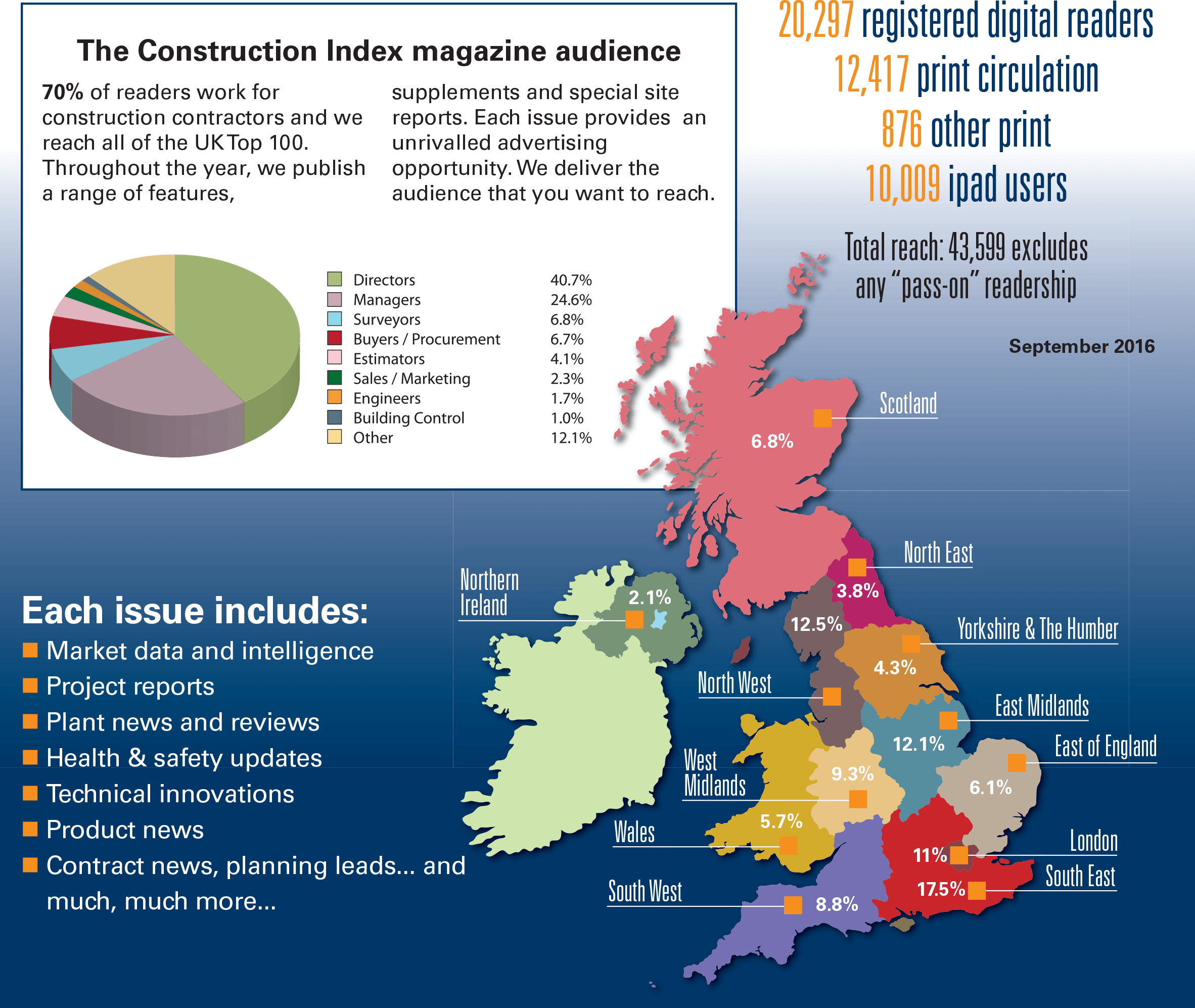 Magazine Advertising Rates

About The Construction Index: The Construction Index magazine is a monthly magazine for contractors, plant hirers, and other companies in the construction supply chain, with a circulation of more than 40,000. It is available in print (12,417), digital, or tablet format.The Construction Index websites are the market leader in construction online media. Our traf c is 2.28m page views and 731,622 visitors a month, according to an audit by Hitwise Experian. Our daily email newsletters have more than 25,000 daily subscribers & 17,000 for the weekly plant news bulletin.
Watch:

Introducing The Construction Index