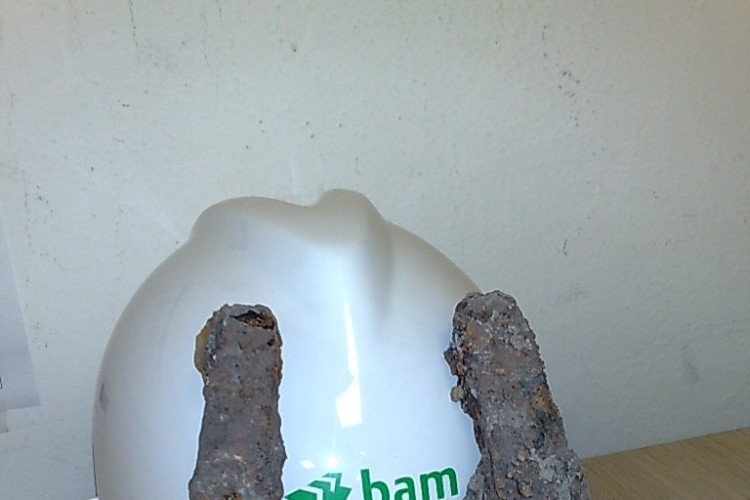 Found by senior site manager David Barker during BAM Construction's 10 million pound renovation of the Gallery, to the right of the entrance, Jeff believes the horse shoe may have come from a horse used to convey materials to the site when it was originally constructed. 
Jeff Thornton says, 'The horse shoe was one of many discoveries we made that we did not expect. The most difficult was finding that the flooring which we should have been able to build upon, was not fit for modern purposes. We've had to re-lay the majority ofthe floor slab in order to take the granite flooring surface we will be installing next month. 
'There were several other discoveries. We found cavities and trenches that were not indicated on plans, disused ducts, chimney flues and chambers. Where possible we've taken advantage of these discoveries because part of our ambition is to hide all the mechanical and electrical services for the building that are now visible and quite an eyesore. That horseshoe turned out to be a symbol of good fortune in that respect.'
The construction work is due to finish late spring 2011, and has involved a good deal of care and expertise. Although Jeff is a very experienced project manager, having worked on many of BAM's projects in Edinburgh over the past ten years such as the new dual campus for Niddrie Mill and St Francis Primary School and the Napier University development – and before that on one of the world's largest projects at Hong Kong Airport – this one is unlike any other. 
'It has been a very difficult job because of the uncertainties brought about by the age and condition of the building. And refurbishing a structure rather than building it from scratch is more complicated. So that is part of the challenge and it adds to the interest of the job.'
As what happens next to the horse shoe, says Jeff: 'We're not proprietorial. But I believe the principle is still finders' keepers!' 
BAM starts work next year on other local developments such as the Dumfries and Galloway Royal Infirmary, Ayr Hospital, East Ayrshire Community Hospital and a new school in Fife. It has just completed Campbelltown Dental Centre. 
Got a story? Email news@theconstructionindex.co.uk