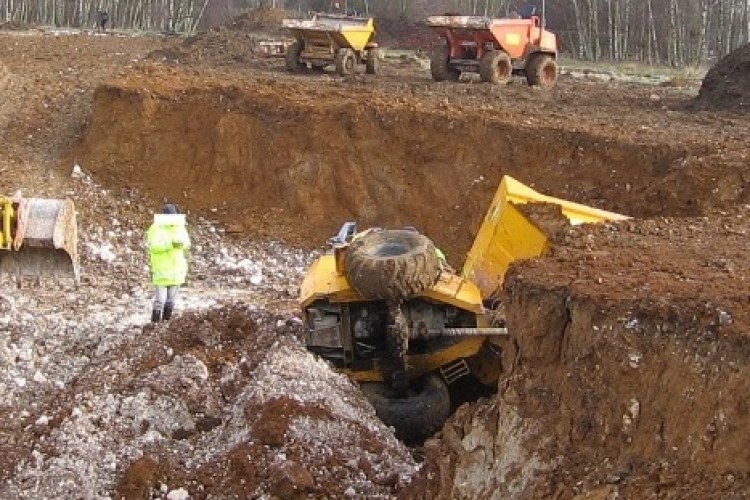 Geoffrey Crow, 48, from Eaton Bray, Bedfordshire, was crush to death in the incident at the former RAF Chenies site in Buckinghamshire on 13th February 2012.
The five-tonne dumper fell into a pit, rolled over and landed on him. He was killed instantly.
Harrow-based Lois Gastoneaux Ltd and Michael Brett, a self-employed contractor working on the site, were sentenced last week after an investigation by the Health & Safety Executive (HSE) identified serious safety breaches in their operations.
St Albans Crown Court heard that Mr Crow was working at ground level while others were working to excavate a basement for a swimming pool at a new-build property belonging to the sole director of Lois Gastoneaux Ltd, Kevin Andrews.
The HSE investigation found that despite operations being underway for some three weeks at the site, there were no measures in place to prevent people or vehicles falling into the excavation, or to prevent any collapse of the excavation faces onto those working below ground.
Additionally none of the five workers on site were used to operating excavators and dumpers as large as those they were asked to use on this job. Neither did they have relevant construction experience despite being tasked with digging such a large excavation.
The seat belt on the machine Mr Crow was driving was not operational at the time of the incident, and his colleagues also stated they would not usually wear seatbelts when operating the machines.
The court was told that there were various contributory factors in the death, and that standards at the site fell well below those expected.

Lois Gastoneaux Ltd, from Harrow, Middlesex, was fined £150,000 and ordered to pay £28,033 in costs after pleading guilty to / being found guilty of breaching Section 3(1) of the Health and Safety at Work etc. Act 1974 and Regulations 37(6) and 31(1) of the Construction (Design and Management) Regulations 2007.
Michael Brett, of Lodge Lane, Little Chalfont, Buckinghamshire, was fined £2,000 and ordered to pay £1,500 in costs after pleading guilty to / being found guilty of breaching Regulation 37(6) and Regulation 31(1) of the Construction (Design and Management) Regulations 2007.
After sentencing, HSE inspector Stephen Manley, said: "Working with construction plant can be extremely dangerous, which is why appropriate safety measures must be in place at all times to protect workers and others onsite.
"In this instance, Mr Crow died as a direct consequence of the lack of controls of the risks involved in the excavation operations. There was no protection whatsoever to ensure workers, whether driving machinery or otherwise, did not fall into the deep excavation.
"A number of people were at work with Mr Crow and they were all at risk of serious harm through the absence of physical controls, as well as poor maintenance of equipment and a lack of training and information provided to workers.
"There are clear industry standards setting out how to identify and manage risks, and guidance is widely available. So there is no excuse to let operations continue without having the proper health and safety measures in place."
Got a story? Email news@theconstructionindex.co.uk