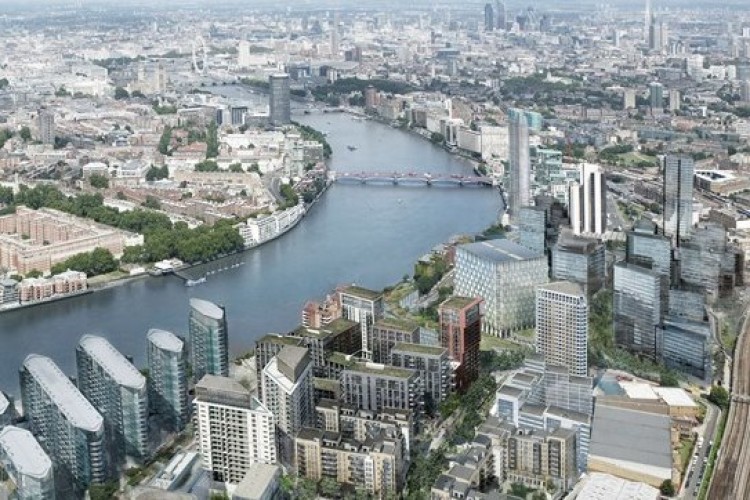 The new pedestrian and cycle crossing would connect the rapidly developing Nine Elms district on the south side with the Pimlico embankment to the north.
Its exact location is yet to be confirmed but the preferred options are close to the site of the new US Embassy.
The plan for the design competition comes after a Transport for London feasibility study confirmed the bridge would cost around £40m and is forecast to carry approximately 9,000 pedestrians and 9,000 cyclists a day – proving a car free alternative to Vauxhall or Chelsea Bridge.
The competition could be launched before the end of the year.
The bridge is part of a £2bn infrastructure package transforming Nine Elms into a new Zone One transport hub complete with two new Northern Line tube stops.

Wandsworth Council leader Ravi Govindia, co-chair of the Nine Elms Vauxhall Partnership, said: "This will be a new bridge at the centre of the world's greatest city so the design standard has to be exceptional.  It will be a dream commission for the winning architect but to succeed they will have to meet some very unique challenges and expectations.
"The design will have to inspire and win the hearts of Londoners who are tremendously proud of their river and its heritage. It must work alongside the cutting edge modern architecture of Nine Elms as well as the elegant buildings on the north bank.  There will be engineering feats to overcome and the landing points on both sides must integrate sensitively and effectively with their surroundings.
"This bridge has the potential to become a powerful icon for the revival of Nine Elms which will help us bring new life, jobs and homes to this underused part of London. It would also help connect communities north of the river with these new opportunities and create a valuable transport link for our growing city."
The bridge and other transport improvements will be funded from private Nine Elms developments and from growth in local business rates income. Once a design is in place Wandsworth Council will explore further funding options that could see the bridge built sooner. This could include sponsorship.
Got a story? Email news@theconstructionindex.co.uk