Good news continues to be the theme for data coming out of the construction industry, confirming the march towards the sunny uplands of sustained economic growth.
The Office for National Statistics reported that output in the first quarter of 2014 was 5.4% higher than Q1 2013. Two thirds of the £1.5bn improvement came from new work, the remainder from repair and maintenance activity. This said, growth seems to have slowed slightly in April according to the latest Markit/CIPS survey.
House builders were the stars yet again, with output up 23.1% on 2013, driven ever upwards by the Help to Buy scheme and the pumping up of what may turn out to be a housing bubble. But their success was matched by figures from the National Specialist Contractors' Council, which found that 59% of it's members had experienced a rise in enquiries in Q1 2014, the best survey results since the late 1990s.
If there are any downsides, they come from persistent concerns being expressed by the likes of civil engineers and the Federation of Master Builders about rising costs and scarcity of labour resources. Bovis Homes has predicted a rise of 5% in its input costs this year, but of course runaway house price inflation looks likely to outpace this for the time being.
Other sectors may not be so lucky, with tender price competition still limiting their ability to preserve already tight margins.
The companies we have analysed for this month's report are road building contractors with turnover of at least £10m and total assets of at least £1m. This produced a sample of 73 companies in all, of which 11 are set up as special purpose entities to run specific PFI contracts. These PFI contractors have a quite different business model to their counterparts undertaking general road building activities.
A year ago, our sample using the same financial criteria amounted to 79 companies, including the same 11 PFI contractors.
Many readers will immediately notice that the detailed financial tables and our analysis omit a number of major contractors such as Balfour Beatty, Amey and Skanska which have substantial activity in road building. While these companies account for a lot of UK road building, it is not possible to separate out sufficiently comprehensive data relating to that activity to make a meaningful comparison with the specialist road builders that are included here.
Furthermore, some of these larger contractors have their overall financial position and strength too strongly influenced by their work in other sub-sectors.
Taking first the larger sub-set, our 62 general road builders appear to have had a good year, with all of their financial ratios improving. Debt levels have fallen, with the average gearing ratio now at a modest 31% compared to 36% a year ago.
Profit margins, whilst still slim have grown from 2.7% last year to 3.2% now. Average return on capital is up to 26% from 22% in May 2013.
Comparing these financial characteristics with other construction sectors, road builders work on lower margins (3.2%) than some but more than most. Plant hirers earn 14.7%, house builders 9.7%, demolition contractors 3.6%, commercial building contractors (3.0%), M&E contractors (1.86%) and water/utility contractors (1.8%). Scaffolders (-4.36%) are the least profitable group we have analysed.
But in terms of return on capital employed, road builders top the league with their 26% beating plant hirers (25%) into second place by a whisker. Gearing levels of 31% place general road builders in fourth place out of eight. Twenty-one (34%) of the companies have no external borrowings, better than five other sectors. The full comparisons are set out in our sector comparison table.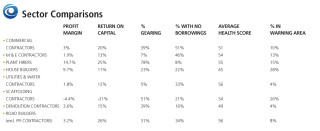 Analysing the interaction between seven key financial ratios involving profitability, funding and asset management, Company Watch calculates the financial health of every UK company to produce a health score – the H-Score.

These are extracted from published financial information and processed through a mathematical model which compares this data with the characteristics of companies that fail and those that survive. This produces an H-Score out of a maximum of 100.
As regular readers will know, scores between 76 and 100 are in the financial Premier League while scores between 51 and 75 are more akin to Championship form. A score between 26 and 50 indicates a company that is struggling financially.
Those that have scores of 25 or below  are in the Company Watch relegation zone and give cause for concern. Over the past 15 years, a very high percentage of UK companies that filed for insolvency or underwent a financial restructuring were in this warning area of 25 or below at the time.
Not every company in this zone fails - some are rescued in time - but finding a company in this position is a clear indication of heightened financial risk for clients, suppliers and service providers alike.

Looking at the profile of the 62 non-PFI road builders on this measure, their average H-Score is 56, which is very significantly above the norm of 45 for all UK companies of similar size. A year ago, the average H-Score in road building was 52 - still high - but the sector has clearly strengthened since then.
Conservative debt levels play a major part in this outcome, as does the fact that there are only two companies with negative net worth (liabilities greater than assets). Equally, only four companies are loss making and in every instance the losses are minor. A year ago, nine companies were in the red.
Five out of the main sample (8%) are in the Company Watch warning area, the third best outcome for a sector so far on this test. Last year, 15% of the sample fell into this vulnerable category. Across the economy as a whole, the expectation would be that around 25% of any sample would be in this financial twilight zone. Looking at the better performers, 66% of the sample have H-Scores of 51 and above, as compared to around 50% for all UK companies.
Turning to the PFI contractors, the picture is quite different. Here almost all the financial indicators are moving in the wrong direction. The 11 companies are now making a profit margin of 7.6%, healthier than most construction contractors but almost exactly half the level a year ago.
Return on capital has dropped from 36% to 32% in our latest analysis. The average H-Score is healthy enough at 56 out of 100, but this is substantially below the exceptionally high figure of 69 last year. Gearing has improved, but only in relative terms. This time around it is 624%, compared to 784% in May 2013.
PFI contractors apart, the results of our research are encouraging, with a marked improvement over the past 12 months on every single measure. But it is worth once more repeating the comments from our previous reports that our figures cover only the few major players out of a market that also features hundreds of smaller, generally undercapitalised and usually family owned SMEs. Much more caution is needed about their finances.
One of the realities of any growth phase after a recession is that insolvencies have peaked after every major recession for the past 40 years somewhere between 15 and 18 months after sustained recovery takes hold, as it now seems to have done at last. The counter-intuitive reason is that having burnt through their reserves during the recession, survivor companies then struggle to raise the extra working capital they need to fund increased sales and investment as things pick up.
This effect is likely to be particularly marked as we move into the second half of 2014 because crucially the financial services sector has taken such a beating from the recession and the rash of misspelling scandals. Many banks and other lenders are still busy repairing their own balance sheets and have less money to lend. They will be far choosier about who they will support.
Worryingly, corporate insolvencies in the first quarter of 2014 finally started to climb after several years of decline. So the financial health of Britain's road building sector is strong and has improved markedly in recent times for all but those dedicated to PFI activities. Promises on infrastructure spending are bound to be central to the political debate in the run up to next year's General Election. Keeping our contractors in the financial fast lane in the years ahead will depend on how many of these pledges are turned into real spending on roads.
[This article first appeared in the June 2014 issue of The Construction Index magazine, which can be viewed in full at: http://epublishing.theconstructionindex.co.uk/magazine/june2014/]
Got a story? Email news@theconstructionindex.co.uk