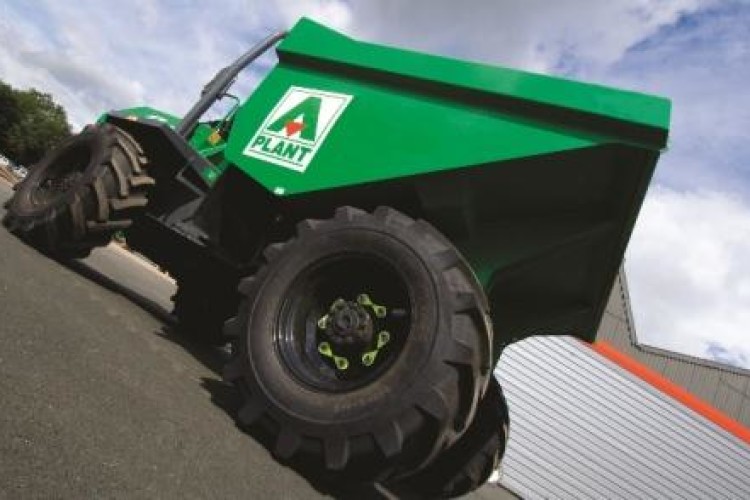 A-Plant generated £323.0m in revenues for the year ending 30th April 2015, up 19% from the previous year's £268.5m.
This growth reflects 13% more fleet on rent and a 7% improvement in yield. Total rental revenue increased 19% to £289m (2014: £244m).
Earnings before interest depreciation and amortisation (Ebitda) were £109.5m, up 39% from £78.6m the previous year.
A-Plant's operating profit was £46.3m, up 84% from £25.2m the previous year. The operating margins rose from 9.4% to 14.3%.
Ashtead Group, A-Plant's parent company which includes the much larger Sunbelt equipment rental business in North America, reported 24% growth in revenues for the year to £2,038.9m (2014: £1,634.7m) and 33% growth in pre-tax profit to £473.8m (2014: £356.5m), which is a record high for the company.
Ashtead invested £1bn in its US and UK rental fleets during the year, compared to £657m the previous year. It expects to spend another £1bn this year.

Ashtead chief executive Geoff Drabble said: "2014/15 was another very successful year for Ashtead.  The consistent execution of our well-established strategy focused on organic growth supplemented by bolt-on acquisitions has delivered both excellent financial results and significantly enhanced our geographic footprint and the breadth of the markets we serve.
"Our financial performance speaks for itself with Sunbelt and A-Plant achieving rental revenue growth of 25% and 19% respectively.  Underlying Group pre-tax profit rose 35% to £490m and we generated a strong return on investment of 19%.
"We invested £1bn in the rental fleet and £236m on 21 bolt-on acquisitions during the year.  We expect to again invest around £1bn in capital expenditure in the coming year and we will continue to open greenfield locations and make bolt-on acquisitions to further broaden our market exposure.  This growth will, as always, be undertaken responsibly and we will maintain our leverage at, or below, two times Ebitda.
"Our markets continue to provide both structural and cyclical opportunity.  The business model established over recent years has a track record of exploiting these opportunities and we are supported by a strong balance sheet.  Therefore the Board looks forward to the medium term with confidence."
UK acquisitions during the year included:
A-Plant acquired the business and assets of
East Coast Construction Services (Hire) Ltd (ECCS) was acquired on 1st September 2014 for £700,000
The business and assets of Hy-Ram Engineering Company in Scotland were bought for £100,000 on 2nd October 2014
The business and assets of Balfour Beatty Engineering Services were bought for £500,000 on 2nd December 2014
On 15 December 2014, A-Plant acquired the entire issued share capital of fencing and barrier supplier Event Infrastructure & Branding Limited (EIB) for £2m. 
The entire issued share capital of Temporary Road & Access Company (TRAC) was bought for £3m on 10th March 2015.
Got a story? Email news@theconstructionindex.co.uk