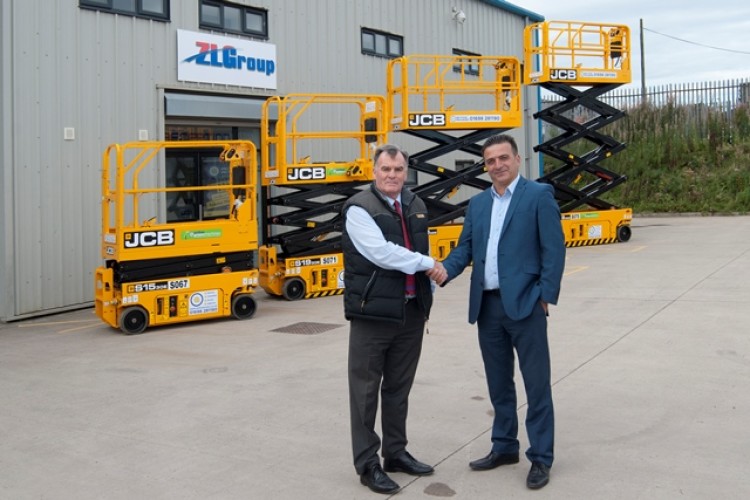 Glasgow-based Active Access has taken delivery of 50 JCB scissor lifts and close to 60 machines from Access Platform Sales (APS) as it embarks on the next phase of its expansion plans.
Active Access bought the 50 JCB scissor lifts from Stewart Plant Sales, a Scot JCB Group company. The order includes eight out of the nine models introduced by JCB Access in its initial electric scissor lift range which spans from 15ft (4.6m) to 45ft (13.8m).
From APS it bought a variety of Genie machines consisting of S125, SX150, S80, Z80, Z62, Z45 and S65 units; as well as a range of Hinowa tracked booms.  It has also bought an Isoli 210 vehicle-mounted boom lift.
Active Access was founded in 2003 and was acquired by Euro Mechanical Handling (EMH) – part of the ZL Group – in 2017, with the aim of making it Scotland's leading independent provider of access platforms. The company's recent investment now takes its fleet up to more than 330 machines, with a commitment for a further 150 in 2018.
With the company also committed to invest £1.7m in around 150 new machines during 2018, this would take its fleet size to more than 480 units.


Managing director Seref Zengin said: "We acquired Active Access because we knew it was a company with great potential, and we have truly transformed the business this year.  Our main goals were to invest in our fleet, significantly grow turnover and also move up the value chain, with signed supply agreements with major construction contractors.  We are delighted to have already achieved all our objectives and our focus has now moved to next year's goals.
Finance director David Irvine added: "The turnaround of the business in the last 12 months has been incredible.  Our success has been fully supported by our bankers, with considerable credit lines being approved and put in place so we have the confidence to continue to expand our fleet and grow our business."
Of the JCB purchases, Seref Zengin said: "There are several key factors why we chose to add the new JCB Access models to our fleet. As an existing Scot JCB customer, purchasing JCB Loadalls, we know the first class product support and back up it provides and our customers have faith in the quality of the equipment and recognition of the strong brand. The breadth of the range from 15ft to 45ft also suits our market well.
"We've already hired out the scissors across a range of factory construction and building maintenance projects. They are proving easy to operate and maintain while the impressive wind ratings are a major advantage too."
He added: "Our customers are finding that the strength and stability is much greater when compared with competitive equipment and they are already requesting to re-hire the JCB scissor lifts over other manufacturers' equipment."
Got a story? Email news@theconstructionindex.co.uk