Advance Construction Scotland has bought two EC160E units, five EC140Es eighteen ECR88D reduced swing machines mounted on city pads, eighteen EC55Cs and ten EC35Ds.
The Blantyre-based company bought its first Volvo compact excavators in 2011 and 2012.
"Opting for Volvo has proved to be a good decision for us," said plant manager Gareth Mollan. "The machines have performed faultlessly, they give a good return on the investment and not least have been well appreciated by our machine operators, so as we needed to expand our fleet it wasn't a difficult decision to opt for the Volvo product once again."
He added: "This time though, besides adding more compact machines to the fleet we've taken the decision to add the 14- and 16-tonne models as well.
"Both the ECR88 and EC55 models are well known to us and they continue to be the optimum sized excavators on most of our typical worksites, but as our portfolio has grown we've seen the need to add some smaller and larger units to the plant fleet as well hence the 3.5, 14 and 16 tonne models."
Advance Construction Scotland was founded in 1993 by Seamus Shields. It now has 1,400, a turnover of £160m and a plant fleet of more than 200 machines.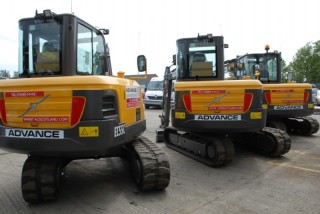 Got a story? Email news@theconstructionindex.co.uk