Pressurised capsules would ride in tubes on an air cushion driven by linear induction motors and air compressors. The hope is that near supersonic speeds could be achieved.
Hyperloop Transportation Technologies (HTT) was founded in November 2013 using a crowdfunded and crowdsourced platform, JumpStartFund. The company completed the feasibility study in December 2014 and struck a deal with land owners in California's Central Valley, giving easement for the first five-mile full-scale passenger transport system.
HTT has announced that the core team has now grown to more than 400 professionals, working in structured teams with minimum weekly commitments in exchange for stock options in the company. Other technology organisations that are involved include Nasa, Boeing Airbus, SpaceX and Tesla.
In parallel, spacecraft developer SpaceX launched a hyperloop design competition in June (link opens in new tab).
"Our team continues to grow and, along with these new alliances, is representative of the collaborative spirit of HTT and are key to our success in breaking ground in 2016," said Dirk Ahlborn, CEO of HTT. "We receive applications from professionals and are approached by industry leading companies every day."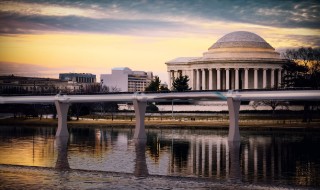 Aecom's vice president of new ventures Andrew Liu said: "HTT's technology is very exciting and could have a significant impact on transportation infrastructure in the future."
Also joining the team are Hodgetts + Fung Architects and vacuum technology company. "Here is a chance to have the best minds in the world working together on an idea for the future. As a pioneer of vacuum technology, this is a very special obligation for us, and our staff welcomes this challenge especially," said Dr Martin Fuellenbach, CEO of Oerlikon Leybold Vacuum. The company's role will include the necessary calculations and technology to create and maintain the partial vacuum that is needed to reach such high speeds.
"Working with HTT to help make the Hyperloop a reality is an inspiring journey as we together share a vision to transform transportation, and with it, to transform neighborhoods, relationships and the way business is done," said Craig Hodgetts of Hodgetts + Fung Architects. "I, along with many others, believe it will be a reality before this century begins its full third decade."
Got a story? Email news@theconstructionindex.co.uk