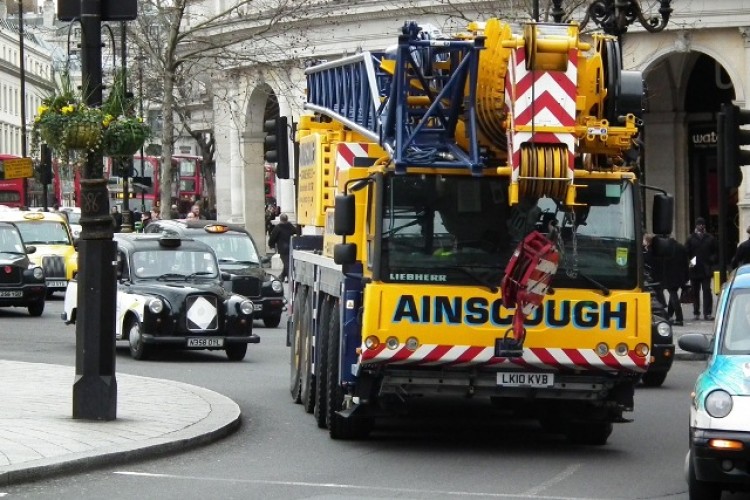 Crane drivers at Ainscough Crane Hire, who took strike action in 2016, are preparing to begin balloting for renewed industrial action in a dispute over pay.
The Unite union says that its 400+ members at Ainscough "are furious that after nearly eight months of negotiations Ainscough management has tabled a pay offer which will result in most workers experiencing a pay cut".
 After eight rounds of pay negotiations, the current offer on the table would see basic rates increase by 4.5% but overtime rates – a substantial element of most crane operators' salary – significantly reduced.
According to the union, workers undertaking more than 50 hours a week would see their pay cut.
Further talks have been scheduled for this week but if no breakthrough is made then Unite plans to hold an industrial action ballot, including the option of strike action.
If the members voted for strike action it would begin at some point this autumn.
Unite said that it was also highly about how management at the company "seems to be casualising the workforce by increasingly trying to replace highly skilled crane operators, with lower skilled workers on zero hour's contracts".

Unite national officer for construction Bernard McAulay said: "The construction industry need to start making plans for an autumn of anarchy if Ainscough don't make a substantially improved pay offer.
 "The protracted pay talks have been like pulling teeth and the latest offer by Ainscough is entirely unacceptable to our members.
"Unite understands that the company needs to make reforms in the way it operates and the union is prepared to work with Ainscough on these reforms but this cannot simply be in the form of a pay cut for our members.
"Ainscough needs to call a halt to their plans to deskill the workforce forcing them onto zero hours contracts they need to remember that it is the skills and professional approach of their workforce is what has made them the UK's premier crane hire company."
"The onus is now on Ainscough's management to sit down and negotiate a sensible pay offer which is of benefit to all concerned."
A spokesperson for Ainscough said: "Ainscough Crane Hire have been in discussions with Unite for many months regarding our working arrangements. We are pleased that Unite have recognised the need for change. Talks are ongoing and we have further meetings scheduled over the coming weeks. We are therefore disappointed that Unite have chosen to comment publicly at this time. There are factual inaccuracies in the information provided by Unite. At this stage we do not intend to comment further as we continue to work collaboratively with Unite to reach an agreement for the benefit of our people and our customers."
Got a story? Email news@theconstructionindex.co.uk