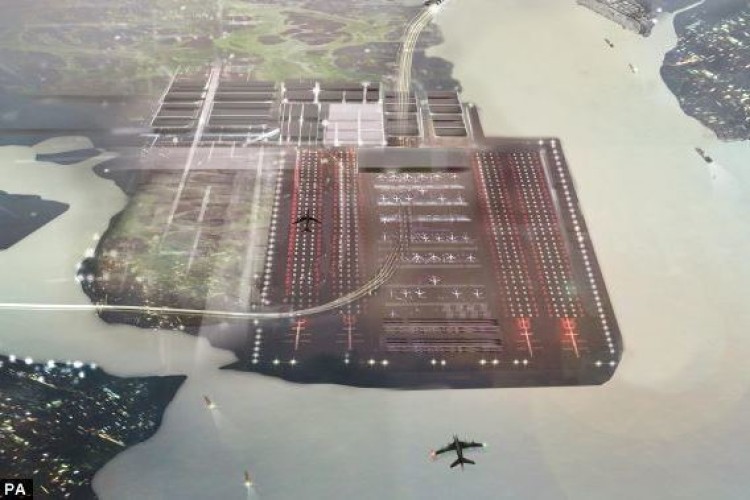 The Airports Commission, headed by Sir Howard Davies, is conducting a long-running review into runway capacity for the government.
It has shortlisted three options for the southeast: lengthening a running at Heathrow and reconfiguring lands and take-off; building a third runway at Heathrow; or building a second runway at Gatwick.
Until now, it was also keeping in the mix the most radical solution of a completely new airport. This plan for a new four-runway hub airport on the Isle of Grain in the Thames Estuary was backed by Mayor of London Boris Johnson, earning it the soubriquet ' Boris Island'.
In a statement released this morning the commissions said: "Following detailed further study into the feasibility of an inner Thames estuary airport the commission has concluded that the proposal has substantial disadvantages that collectively outweigh its potential benefits."

Sir Howard Davies said: "We are not persuaded that a very large airport in the Thames estuary is the right answer to London's and the UK's connectivity needs.
"While we recognise the need for a hub airport, we believe this should be a part of an effective system of competing airports to meet the needs of a widely spread and diverse market like London's.
"There are serious doubts about the delivery and operation of a very large hub airport in the estuary. The economic disruption would be huge and there are environmental hurdles which it may prove impossible, or very time-consuming to surmount. Even the least ambitious version of the scheme would cost £70 to £90 billion with much greater public expenditure involved than in other options – probably some £30 to £60 billion in total.
"There will be those who argue that the commission lacks ambition and imagination. We are ambitious for the right solution. The need for additional capacity is urgent. We need to focus on solutions which are deliverable, affordable, and set the right balance for the future of aviation in the UK."
Got a story? Email news@theconstructionindex.co.uk