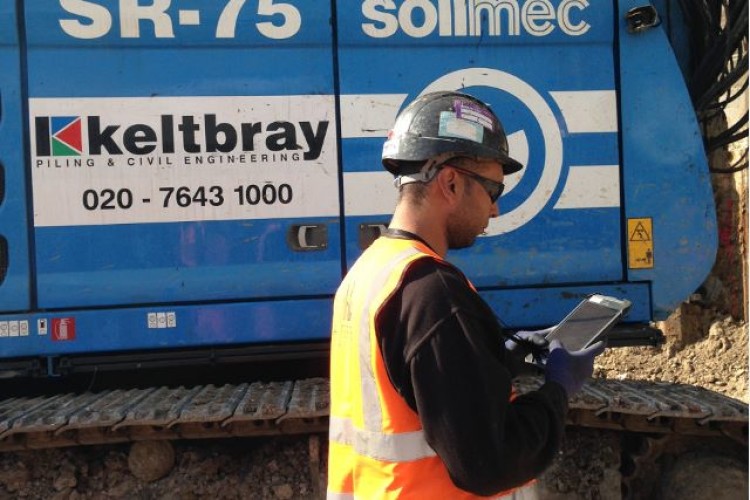 Keltbray's new software application allows engineers on site to complete all piling records via the use of mobile tablets. The tailor-made system allows office and site based staff to share information from the same database in real time with project details updated live as the work progresses.
Previously, Keltbray's project engineers on site had to fill in forms by hand, leading to double handling of data and reading information which was at times dirty, incomplete and difficult to read. Automation means the company now eliminates the need for repeated data input and reduces scope for human error, it says. The new system provides live feedback to engineers, including real time data on pile positioning, concrete pours and pile verticality while also assisting in the management and quality control of materials on site.
Keltbray has invested around £70,000 in the development of the app and estimates that it will save its piling division alone at least £60,000 a year. As part of the second generation, the company is now looking at incorporating additional reporting functions to allow it to become a business management tool as well as providing live data feeds into client databases.

Keltbray Piling managing director Stuart Norman said: "Our industry has traditionally been late adopters of new technology, but following last month's milestone, when Building Information Management (BIM) Level 2 compliance for centrally procured government projects came into force, more companies are starting to realise the potential for electronic data systems to help increase collaboration and to assist in making more informed decisions."
He said: "It is a known fact that a large proportion of the cost of a project is tied up in inefficiencies, delays and wastage. As we learn how best to integrate our data in the wider BIM environment, we can reduce this with the ultimate aim to eradicate it completely."
He concluded: "In the future all of us will eventually not just be engineers or managers, we will all be data harvesters and analysts."
Got a story? Email news@theconstructionindex.co.uk