A previous consultation process delivered an overwhelming stakeholder preference for the most expensive of the three shortlisted options, at £250m, and so this is what Highways England announced as the route for the scheme in May 2018.
At that time, the design of the western junction where the bypass rejoins the existing A27 remained under review to reduce the impact on ancient woodkland. However, "important new evidence" has now come to light, says Highways England, "which merits putting the plans to the public again".
Further consultation might bolster Highways England's case in defending the project from ongoing legal challenges.
The 'new information' includes a redesign of the western end of the scheme where it re-joins the existing A27, updated traffic modelling results and updated data on and enhancements of the cheaper options.
During the original consultation, Option 5a was the most popular option, supported by 47% of people who responded through the questionnaire, against 20% for Option 3 and 13% for Option 1.
At the same time, Option 5a also drew the most opposition, getting opposing comments from 33% of stakeholders, although all three routes are controversial, receiving opposing comments from more than 30% of stakeholders.
Option 5a is the most southerly alignment of the three shortlisted options, with the longest stretch of new build. Option 3 is also a bypass around the town but cutting straight through ancient woodland to rejoin the A27 nearer the town at the western end. Option 1 is widening the A27 in the town on its existing route.

The range of project costs is put at £100m for Option 1 up to £250m for Option 5a.
Highways England said that reopening consultation "will give local people a fresh look at all the viable options for upgrading the A27 using the latest available information".
Highways England programme lead Alan Feist said: "It is clear that improving the A27 at Arundel is a priority for local people, and we at Highways England have been working hard to develop our proposals. Since the original consultation, our continued work has established important new information about each of the options and we have decided that we will run a further consultation next year to seek people's views on the proposals in light of that new information.
"The Arundel bypass scheme remains a much-needed scheme with strong popular support which would improve journeys along the whole of the Sussex coast. Drivers on the A27 suffer daily delays and the congestion there holds back the whole region and pushes traffic into small, less suitable roads through the South Downs National Park. Highways England remains committed to finding a solution to this problem, which has blighted Sussex and communities across the south coast for decades.
"The preferred route announcement we made last year remains in place, and we are defending the legal challenges that have been brought against it."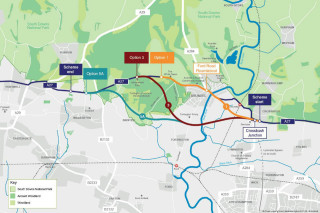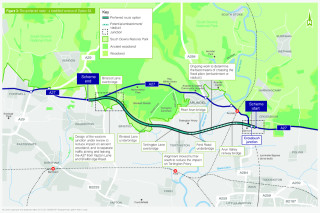 Got a story? Email news@theconstructionindex.co.uk