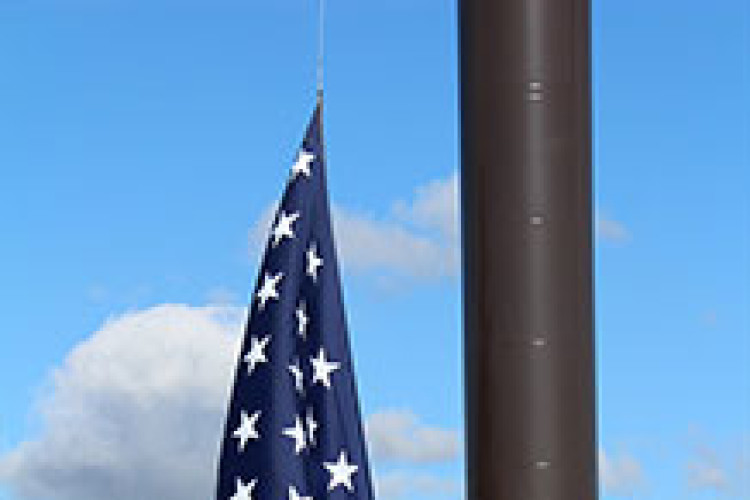 Acuity appointed Arup to review and oversee all technical aspects of the flagpole's design and fabrication, which included wind engineering; supplemental damping design; cold-weather engineering; metal fatigue analysis; geotechnical, electrical, and mechanical engineering; moveable structures; corrosion protection; lighting; and security camera review.
Key engineered components of the flagpole include a rotating truck slew bearing assembly at its top, and three pendulum-type tuned mass dampers within the pole to suppress the first three modes of cross-wind oscillations.
The flagpole is owned by the Acuity Insurance Company. "Acuity erected its first flagpole after 9/11 as a tribute to our Nation's soldiers, and from there its meaning, intent and symbolism have grown to mean many different things to many different people," said Sheri Murphy, Acuity's vice president, services and administration. "During this latest installation we knew this was much bigger than a construction project and we were committed to doing it right in order to provide our community with a beacon of hope and patriotism well into the future. It brought a great sense of comfort and confidence to our team knowing we had Arup's experience and expertise guiding all aspects of the project on our behalf. They helped us stay focused and the end result is exactly what we were striving for. It was wonderful to have them by our side."

Key collaborators on this project included contractor Mortenson; US Flag & Flagpole Supply; structural engineer APE; and tuned mass damper supplier Flow Engineering.
Additional facts include:
At 122m, it is the tallest flagpole in the world flying a US flag
The flagpole is 3.35m in diameter at its base tapering to 5ft 6in at its top
The pole weighs approximately 190.5t and was fabricated and erected in six sections
The 18m by 36m flag weighs 159kg.
Got a story? Email news@theconstructionindex.co.uk