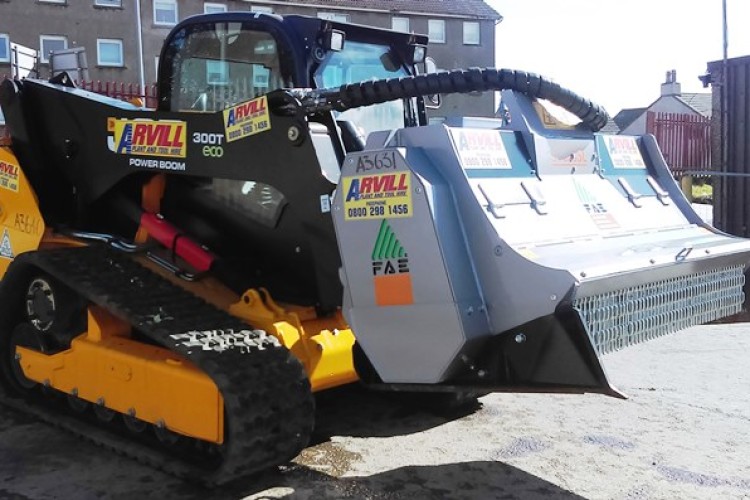 Arvill says that it is the only machine of its kind in the UK. It has already been tried and tested on several projects upgrading towpaths along the canal network of Scotland.
The stonecrusher, which cost £30,000, is designed and built for the skid steer unit, which cost an additional £46,000.
Commercial director Hayley Shevill said: "The stonecrusher is ideal for challenging terrains such as the canal and cycle paths, which are narrow and can have fragile banks. The unit also helped reduce disruption to pedestrians and the paths remained open throughout operations."
The machine can work in conjunction with ground stabilisation materials, creating a load-bearing layer with a suitably flat surface.

Ms Shevill added: "This solution meets a number of environmental criteria.  It means no energy intensive excavation is needed in a quarry to provide material and it reduces pollution, time and costs on site. We are confident that our acquisition of this machine will open up new markets for us."
Arvill Plant & Tool Hire has also added 10-tonne and six-tonne site dumpers to its plant fleet, all fitted with full cabs, in an investment spree totalling nearly £400,000. 
The larger dumpers are fitted with front and rear integrated cameras and the smaller with front cameras that will address many of the safety concerns around front tipping vehicles in which the skip obscures the driver's vision. 
Arvill Plant says its future buying plans include dumpers that are fitted with rotating cabs to enable the driver to always face direction of travel and simultaneously give the option of sitting in front of the loader skip instaed of behind it.
Got a story? Email news@theconstructionindex.co.uk