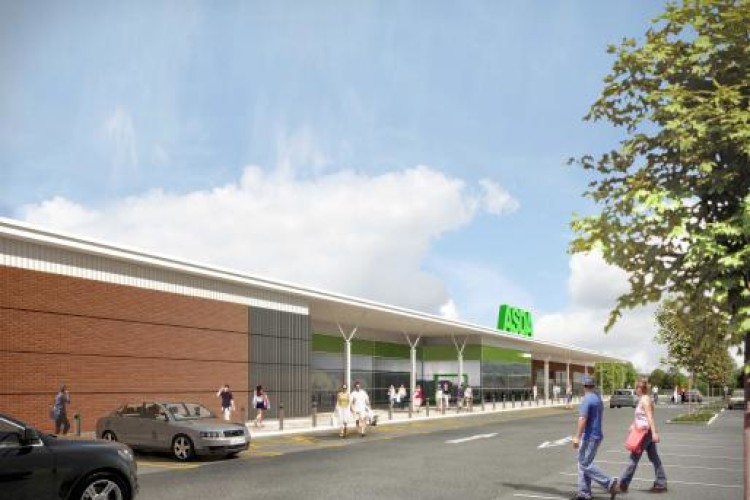 It will be the first store in the UK to operate the Breathing Buildings e-stack system and use a strategy designed specifically to manage temperature fluctuations in colder weather.
"We are very hopeful that this unique approach will deliver carbon emission savings and energy cost-savings in excess of any we could achieve using either mechanical or traditional natural ventilation systems," said Julian Walker Palin, Head of Corporate Sustainability at Asda.
Natural ventilation systems in supermarkets often struggle to be effective at temperatures below 16 degC.  The natural ventilation strategy designed for Langley Mill - based on Breathing Building's patented and award-winning e-stack technology - means Asda will be able to use natural ventilation effectively down to 10 degC at the store.
In Summer, an upward displacement strategy will deliver fresh air into the shopping area, even on hot days when the air is still.
The e-stacks – there will be 12 of them visible on the roof of the Langley Mill store – reduce the amount of pre-heating required in a building by capturing and re-using energy generated in a space by the occupants and their activities.  In a supermarket, this includes electrical equipment operating in the store, lighting and the body-heat of staff and customers.
Breathing Buildings modelled the system at an early stage of the project.  Expected energy savings in comparison to a mechanically-ventilated store of the same size are estimated to add up to approximately 110,000 kWh/year of electricity and as much as 150,000 kWh/year of gas.  An independent review of actual performance over the next two years is planned.  Meanwhile, Langley Mill's energy usage and temperature will be continuously monitored and logged through the building management system. 
Dr Shaun Fizgerald, Managing Director of Breathing Buildings said:  "Supermarkets are open for many hours each week and they need to be confident in the systems they use. Natural ventilation is still regarded by many in this competitive sector as a relatively untried concept.  In the past year, we've found that many supermarkets wish to secure for themselves the benefits of ultra low-energy ventilation.  We're delighted to be forging the way ahead with Asda as they pioneer our unique system at Langley Mill." 
Overall, the Langley Mill store will feature a range of measures to ensure that it is 30% more energy efficient than a store built in 2005.  The store, which hasa 36,000 sq ft sales area, isdue for completion in November and set to open in time for Christmas.  
Got a story? Email news@theconstructionindex.co.uk