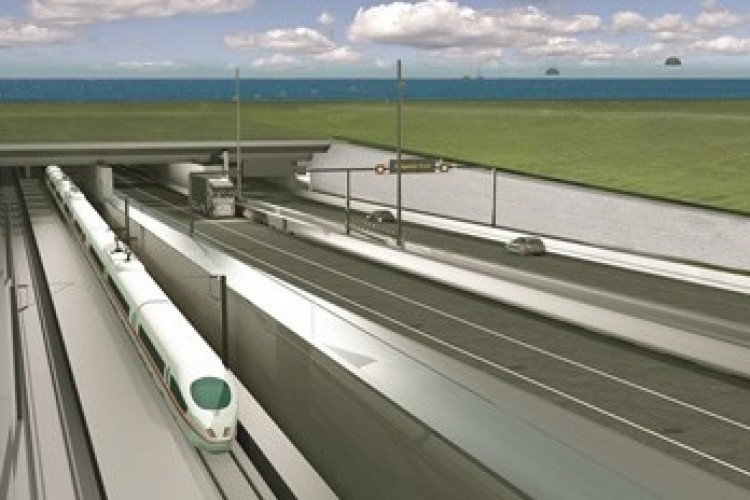 Nine major international contractors or consortia have submitted tenders to Femern, the promotor of the Fehmarnbelt tunnel that will link Denmark and Germany. Some of the consortia have chosen to tender for the whole project whereas others have decided to focus on certain tasks. At this stage, the focus is on technical proposals for the €5.5bn (£4.4bn) project; prices will be discussed later.
"This is a very important day for the Fehmarnbelt project, which we've been eagerly awaiting," said  Femern technical director Steen Lykke. "We now finally get to see the specific and innovative solutions that the contractors have prepared. Interest from the contractors has been fantastic and we're looking forward to examining the tenders in more detail."
The 17 tenders set out how the project can be accomplished within the framework defined by Femern.  As the project involves groundbreaking technology, the contractors have been afforded significant scope for innovative ideas in their tenders.
The future fixed link between Rødby and Puttgarden is one of the largest infrastructure projects in Europe. Due to its size and complexity, the project is divided up into four large construction contracts, each of which will create thousands of jobs. 

The four contracts cover the dredging of the 18km-long and 12m-deep trench in the seabed, the construction of the northern and southern ends of the tunnel and the establishment of the adjacent facilities on both the German and Danish sides of the tunnel. 
Over the coming months, Femern will analyse the tenders with a view to engaging in dialogue with the contractors. 
When Femern has assessed the technical tenders and the dialogue is completed, the contractors will begin to calculate prices. Femern expects to receive these in December 2014, so that a realistic construction sum for the works can be incorporated into the proposal for the Construction Act, which the Danish parliament, Folketinget, will consider at the beginning of 2015.
Got a story? Email news@theconstructionindex.co.uk