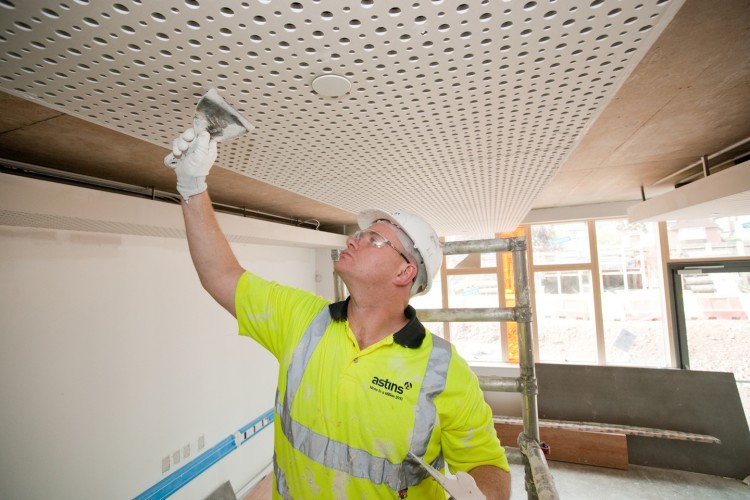 The Richard Rose Academy in Carlisle is being developed as a joint venture by Kier Build and Kier Construction, with the renowned architectural practice, BDP, leading the design team. Due to open early in January 2011, the academy will provide places for 1500 students up to the age of 18.
Constructed around a central atrium, the Richard Rose Academy provides teaching, administration and communal spaces across three floors, with both interior fit out and exterior cladding being to a very high specification.
Astins began work on the project in March of this year (2010) with its site personnel including a large proportion of its 'legacy labour force' drawn from previous projects in the region. It also involved a trio of the company's apprentice dry-lining fixers: two male and one female.
With architectural style being a key ingredient to the academy programme, Astins had to draw on its vast experience in education and other sectors to ensure it met the highest standards of quality, while also demonstrating the ability to comply with technical demands and cost constraints.
These attributes are exemplified in its approach to installing the Trespa panels that articulate the main elevations to the academy. Not only did they have to be fitted in accordance with the architect's design that featured an alternation of seven different shades of green, but BDP also wanted to avoid any evidence of the standard fixing system being visible.
Therefore instead of the manufacturer's tried and trusted mechanical retention system being used, Astins had to work on perfecting an installation method that relied on double sided tape and a special mastic supplied by Sika. The areas between the Trespa panels received an application of the Sto render system in Granite Grey.
Internal to the building, meanwhile, Astins' operatives had been employed on installing a variety of dry-lining products, including wall panels, acoustic baffles, and conventional suspended ceilings on grids. There was also a large quantity of wet plaster to be applied in the college's kitchens in order to create surfaces that would be easily washable, in line with the stringent hygiene standards expected from the educational environment.
The Construction Manager for Kier Build, Steve Oxby, recounts: "I have personally worked with Astins on other projects in the past when I was at Kier Build, and the company was awarded this contract on competitive tender as it has experience in all the areas of work. We expect to hand over the academy on schedule by the end of the year."
Established in 1996, Astins Ltd has grown considerably over the years to now employ over 500 people across the UK, having an annual turnover of £30 million.
A young and dynamic company, Astins has grown at a steady and well-controlled pace, to avoid the inevitable drop in performance that poorly managed expansion risks. Astins' clients have consequently had an uninterrupted flow of excellent service while the company itself has flourished as it develops.
The company's policy of employing, developing and retaining the best talent is key in guaranteeing a consistently high-quality service. Astins is therefore proud of the results: with every single contract having been delivered on time, and above all, safely. Indeed, at the Richard Rose Academy, Astins has played its part in the main contractor being recognised for having completed 250,000 hours work without a reportable accident.
Amongst the areas of expertise offered by Astins are partitioning, coving, column encasement, plastering and screeding, fire proofing, constructing airshafts and other operations to complete the fit out.
Got a story? Email news@theconstructionindex.co.uk