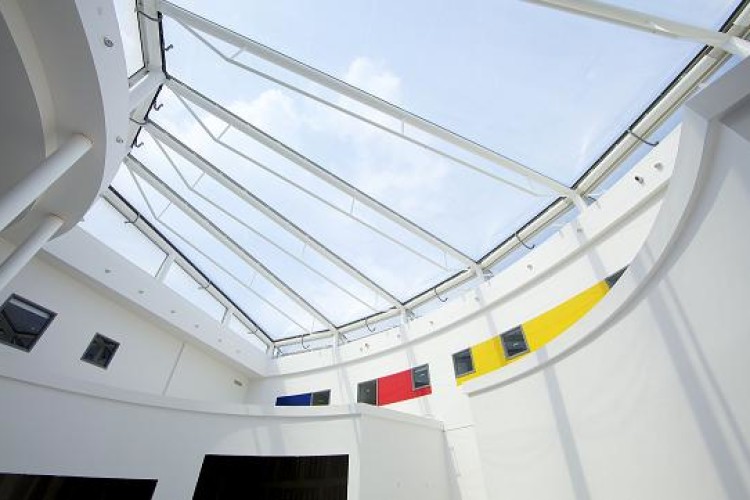 Working for main contractor Brookfield, Astins' technical team took the original design for the interior fit out and applied its own value-engineered approach to save some £1m on the project, developing a bespoke process for the installation which improved the time scales for following trades to access the site.
Working with around 225 people on site, site manager for Astins Phil Troope has overseen the installation of internal walls for the Mental Health Unit and the Integrated Care Centre at the Edith Cavell Hospital. Over 4,500 rooms were constructed over a 12 month period. This equates to an impressive 32 miles of internal walls.
As a design-led project many of the internal walls were specified with curved abutments. This presented a particular challenge, in both the time that would be required to install such elements to the highest architectural detailing and the potential material wastage that this design could produce. Astins' technical team made recommendations to ensure that the installation of these details would not hinder the construction programme and would not produce excess waste.
Astins had to wait for access to the site due to delays in the critical path caused by poor weather. With this in mind it was crucial to look at ways in which this specialist contractor could pull the time back, by value engineering its approach to the installation process. Astins' technical department applied its own recommendations and as a result the work onsite followed a bespoke process that enabled following trades to access rooms as they were constructed in sequence. 

Andrew Richardson, Project Construction Director, Brookfield Europe said: "Astins provided a very professional approach to the implementation of the fit out. As a result time savings were achieved, with a high quality finish."
The installation involved setting out head plates for the walls, the installation of multi services and trunking for cabling. Next the studs were dropped in and one side of each wall boarded. This allowed space for the installation of technical services such as electrical cabling for monitors and electronic equipment and ducting for HVAC facilities. The walls were then closed up, with a three-coat taping and jointing process. Finally the completed rooms were ready to hand over to the painting and decorating contractors.
Onsite and in-house training by Astins ensured that every member of the installation team was able to construct the rooms required with absolute attention to detail, ensuring that there was no need for work to be repeated, creating unnecessary delays. Training for improved site performance, an exceptionally high quality finish and client satisfaction is something Astins takes very seriously. Three of its own Astins Institute apprentices were employed on the site and Brookfield benefited from the flagship scheme in which a sophisticated KPI driven assessment system helps to quantify that created for clients.
Dominic Tutt, Managing Director of Astins explains: "I firmly believe that the future of the construction industry depends on the quality of the training and skills development that we provide. It is the specialist contractor that is best placed to deliver this training, with our real understanding of the link between skills, training, quality and productivity."  
Got a story? Email news@theconstructionindex.co.uk