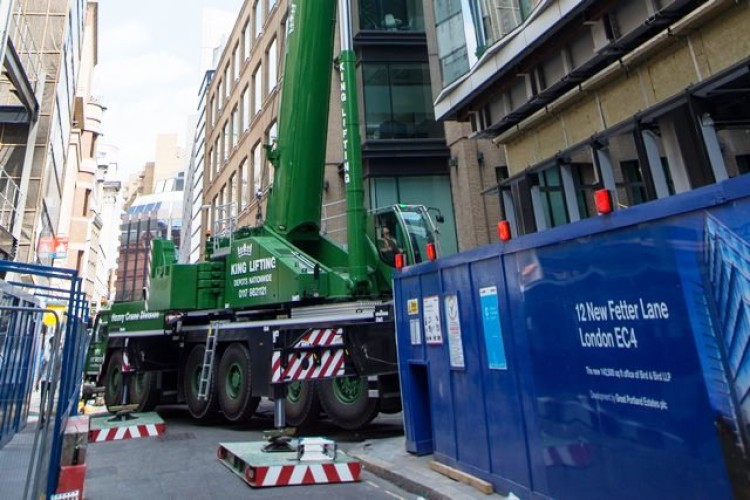 King Lifting recently added a new Liebherr LTM1300-6.2 mobile crane to its fleet. The 300-tonne rated, six-axle crane was deployed to assist in the dismantling of a large HTC Wolff tower crane at the tight junction of Fetter Lane and a service lane leading to New Fetter Lane.
Thanks to the all-wheel steer on its 12x8 chassis, the mobile crane could be set up in the optimum position to reach the tower crane. The Liebherr was then set up with 78 metres of main boom with an additional 14 metres of fixed fly jib to enable the various tower crane components to be reached.
The LTM1300-6.2 retained the necessary capacity for the job only because of its VarioBase system. This variable supporting base system is a recent innovation from Liebherr and is especially useful when operating in locations where space is at a minimum as it allows the crane to be operated to its full capability.
VarioBase enables the outriggers to be deployed to varying lengths and the on-board computer controls the lifting limits. The extension length and support force on each leg is measured and maximum lifting capacities for the particular situation are calculated by the crane control system.

On this particular project, the system enabled the outriggers to be set at full width on the rear units with the front nearside at 50% and the offside at 75%, which allowed footpaths to remain open, street furniture to stay in place and fragile underground services to be avoided. A crane using conventional outrigger positions would have required much more preparation work to clear the site hoardings and highway.
HTC operations manager Nic Hutchinson said: "Partnering with King Lifting on the Fetter Lane job was a great opportunity to exploit the advantages of the VarioBase on the LTM1300-6.2. The manoeuvrability of the crane into this incredibly tight space was remarkable as can be seen from the photos. It really was the only crane that could be utilised with minimum disruption to an already tight and cordoned-off area. Amazing achievement!"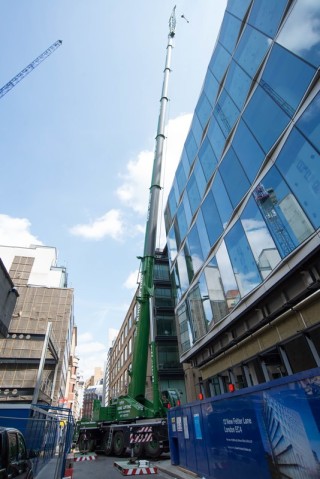 Got a story? Email news@theconstructionindex.co.uk