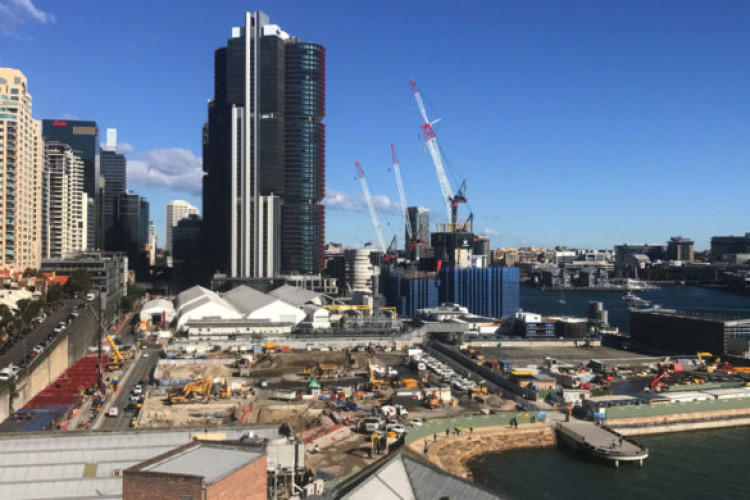 The company's Q3 2018 RLB Crane Index has identified a record 735 cranes, which equates to an increase of 52 cranes (+7%) compared to the last count undertaken six months ago.
Melbourne saw a strong 35 crane increase to reach a new peak of 192, overtaking the record levels reached six months earlier. Meanwhile, Sydney continues to decline from the peak reached in Q4 2017, driven by a declining residential sector. The residential crane count has fallen by 55 cranes from its peak in Q4 2017.
RLB global chairman Stephen Mee said: "While we see Australian construction activity reach record numbers, the infrastructure (civil) sector has been the star performer of the past 6 months with a 67% increase in crane numbers."
He added: "From a base of 15 cranes on infrastructure projects in Q2 2018, 19 new cranes were erected on projects during the past 6 months while 9 were dismantled, giving a total of 25 cranes for 3Q 2018. With the announcement of many significant infrastructure projects by both federal and state governments, the anticipation is for civil cranes to maintain current levels or rise further."
According to the RLB Crane Index, Melbourne has seen 13 new civil cranes added from a base of zero six months ago and Sydney has seen a rise from eight to 11 cranes. Key infrastructure projects in these cities include the Metro Tunnel's enabling works in North Melbourne (6), the Westgate Tunnel project (5), Sydney Metro's Bella Vista station (2) and the West Connex tunnel at Kingsgrove (2).

Recent construction statistics released by the Australian Bureau of Statistics highlight the ongoing strength of the overall construction industry, said RLB. For FY 2018, total construction in Australia reached AU$221bn. Strong increases were seen in the non-residential and engineering construction sectors of 11.1% and 20.7% respectively, while the residential building sector remained constant at AU$74bn.
As building work done for apartments continues to rise, with a 2.3% increase for FY 2018, there appears to be a bounce in the residential crane index from its dip in Q2 2018. Nationally, the number of residential cranes increased in all regions, except Sydney and Newcastle, lifting the national residential index by 8% to 170. In addition, the non-residential index continued its rise, increasing 7% to a new high of 180.
According to the RLB Crane Index, Sydney continues to be the main driver of the crane count. Of the 735 cranes sighted across Australia, 321 were in Sydney, 192 were in Melbourne, 72 were in Brisbane, 37 were in Perth, 24 were on the Gold Coast, 23 were in Canberra, 16 were in both Adelaide and the Sunshine Coast, 12 were in Newcastle and 4 were in Hobart.
For the first time, the RLB Crane Index includes the Central Coast in New South Wales, which had 18 cranes sighted.
Got a story? Email news@theconstructionindex.co.uk