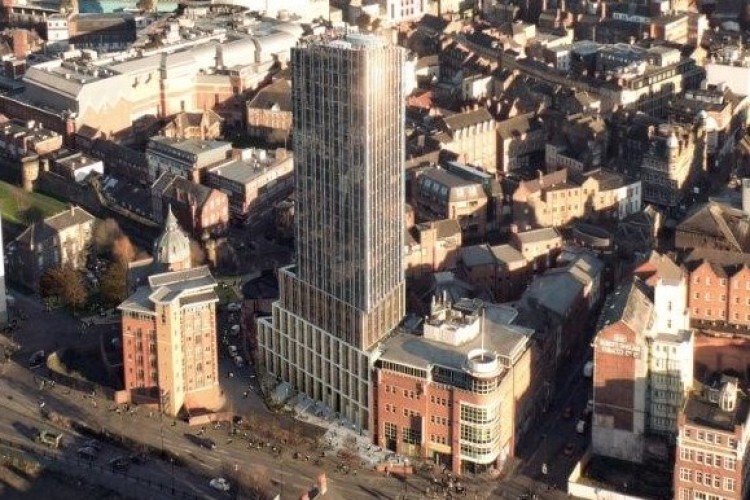 The 82-metre high structure will be built in Rutherford Street, off St James' Boulevard in Newcastle. The scheme involves the demolition of a semi-derelict warehouse to make way for the new building.
Construction on the £40m development is expected to start in the autumn.
When completed, the building will have 162 private rented sector (PRS) apartments, of which 96 will be single bedroomed and 66 twin bedroomed. Target market will be young professionals, post graduate students and those working in the adjacent Science Central and university hospitals. 
The masonry and glazing façade at the lower level is designed to blend with the existing streetscape and reflect the grade II listed print works building opposite. A more vertical style has been adopted for the upper levels, with steps and cantilevers.
As part of the planning consent it was also agreed that up to £500,000 would be invested in the surrounding street scapes to upgrade the walkways and signage in the old town walls area.  A further £700,000 will be made available for affordable housing elsewhere in the city.

In addition, public viewing from the rooftop – offering views of the city and as far as the coast – will be available 18 times each year.
All Saints Living is a division of the Newcastle headquartered High Street Group, whose business is property investment, development finance and financial claims.
It is also developing a £51 PRS scheme in Warrington and a similar £35m scheme in Milton Keynes that will together produce more than 300 new flats for rent.
Other All Saints projects include proposals for a 90-bedroom hotel in Durham City, the creation of the 32-bedroom Hotel 52 and Loca restaurant in Whitley Bay, 25 executive homes in Hartlepool and the redevelopment of the Gosforth walled gardens, next to Newcastle Racecourse, into 14 executive homes.
In Scotland it has plans to create 18 apartments in a converted and extended school, with nine large detached homes in grounds in the Glasgow area and 12 more apartments in a converted and extended listed mansion house up the coast at Helensburgh.
Got a story? Email news@theconstructionindex.co.uk