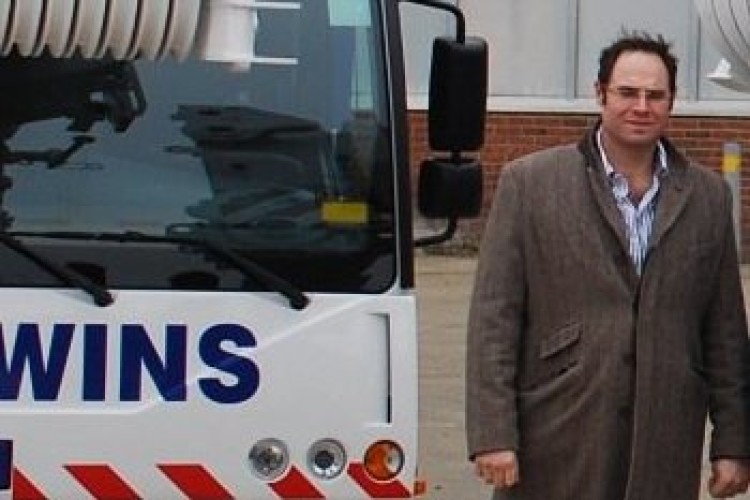 Founder Richard Baldwin is disqualified for a year and his son Wayne Baldwin is disqualified for five years. Two other directors are also banned.
Traffic Commissioner Kevin Rooney concluded that drivers had falsified their records to ensure cranes would be on site ready to work on time and at times this had, directly and indirectly, been caused by director Wayne Baldwin.
Mr Rooney said that compliance at the business, which operates vehicles from bases in Leeds and Langley, should have been at the highest possible level given its previous run-ins with the law but was not.
Baldwins Crane Hire is one of the UK's largest crane hire companies and operates a fleet of 81 mobile cranes, including 11 of more than 350-tonnes capacity.
Kevin Rooney said: "The falsification of records to make it appear that drivers had taken appropriate rest goes absolutely to the heart of road safety. In the case of this operator, five out of seven drivers investigated in 2014 were found to be so offending. A follow-up investigation in 2015 found the offending, if anything had worsened with 18 drivers found to be offending. This was at a time when the company had been under the DVSA spotlight as well as been subject to a Health & Safety Executive investigation in relation to the manslaughter of one of its drivers."
Baldwins Crane Hire was fined £700,000 and ordered to pay costs of £200,000 in December 2015 after being found guilty of corporate manslaughter following the death of a crane driver in a crash caused by brake failure.
Mr Rooney remarked that the failures at Baldwin Crane Hire were "so significant, so deep-routed and so inspired by the very top of the business" that it was appropriate to revoke their vehicle operating licences.
Under Section 28 of the Goods Vehicles (Licensing of Operators) Act 1995, company founder Richard Baldwin is disqualified from applying for or holding a goods vehicles operator's licence in any traffic area for a period of one year from 10th September 2016.
His son Wayne Baldwin is disqualified from applying for or holding a goods vehicles operator's licence in any traffic area for a period of five years from 10 September 2016.

Operations director Andrew Skelton is banned for two years and Lorraine Baldwin is disqualified indefinitely.
The disqualification orders and the revocation of the company's licences take effect on 11th September 2016.
Richard Baldwin said that he planned to appeal.
However, despite all this, it seems that Baldwins might be able to continue to run smaller mobile cranes. The Traffic Commissioner's disqualification order applies only to commercial vehicles. Mobile cranes, by an historic quirk of law, are engineering plant, not commercial vehicles; therefore, they are not subject to the same legislation as lorries. Baldwins needs HGVs to support the operations of its heavy cranes, to carry ballast, for example, but cranes of up to five-axles can generally get to site with all necessary ancillary equipment on board.
"The heavy cranes are only a part of the Baldwin's business," the Traffic Commissioner said. "The business operated without a fleet of heavy trucks up until 2007. I do not know if my decision will mean the end of Baldwin Crane Hire Limited, but I make my judgement on proportionality on the assumption that it will. The failures at Baldwin Crane Hire are so significant so deep-rooted and inspired by the very top of the business that I find it entirely appropriate that this licence be revoked."
Baldwins also still has the option of subcontracting its ballast transport operations to a licensed operator.
In 2015 Baldwins Crane Hire turned over £22.7m and made a pre-tax profit of £1.9m. At 31st March 2015 the company had net debt of £28.6m.
Richard and Wayne Baldwin continue to have the support of their industry peers, it seems, with Baldwins Crane Hire Ltd remaining a member of the Construction Plant-hire Association. CPA rules are very strict on collusion and price-fixing among members but otherwise make no demands of members not to break the law.
Got a story? Email news@theconstructionindex.co.uk