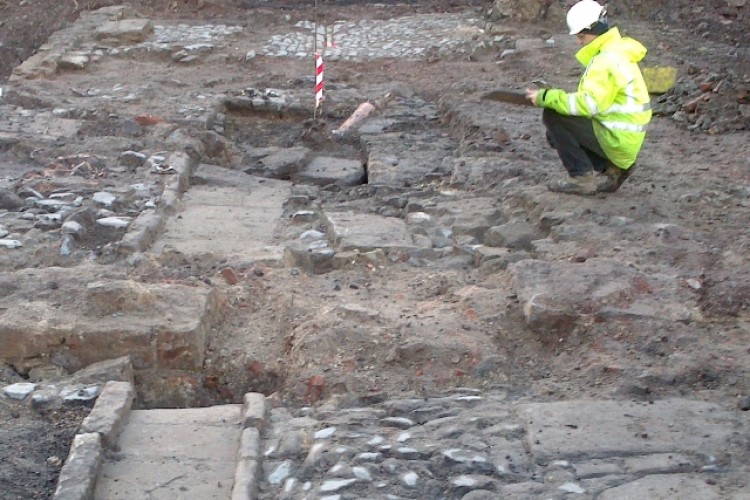 Archaeologists have now completed their survey, which unearthed new evidence about the development of Edinburgh's World Heritage site. The excavations revealed that the tanning of animal hides was the main industrial process taking place on the site during the medieval period.
CFA Archaeology has been working closely with Balfour Beatty and the City of Edinburgh Council archaeology service to recover medieval remains on the site. Finds include bronze pins and coins of different dates, pottery, clay pipes and animal bones, as well as environmental evidence that will help to picture what life in the Canongate was like over the last 800 years. Soil samples from the site will be analysed to give a better understanding of the plants and fruits that would have formed a part of the medieval diet.
The archaeological dig was a planning requirement with the City of Edinburgh Council overseeing procedures. The area, just off Holyrood Road, occupies what were the medieval backlands (gardens and industrial areas to the rear of dwellings) of Canongate and is part of the city's World Heritage site.
Council archaeology officer John Lawson said: "It was important to discover what this area had to tell us about the history of our city before allowing a new development to emerge on the site. We are delighted with how well Balfour Beatty has taken on board this planning requirement.

"We knew the site could help us understand how the Canongate developed from its origins in the 12th century to become the site of an important Victorian brewery but we were surprised to find over four metres of preserved architectural remains and rare survivals of materials. The site has revealed the first evidence of an industrial-scale tanning industry in Edinburgh and also provides vital information on the topography of Edinburgh. The survey has also helped to pinpoint the location of the boundary ditch that existed between Edinburgh and the Canongate for over 200 years."
Balfour Beatty senior project manager Alastair Moore said: "We are delighted to have been involved in this process to understand more about how medieval Edinburgh went about its work and daily life. We have been able to keep the contract programme on track by working round the extensive archaeological excavations which were carried out across the full site."
The first phase of student accommodation development is scheduled for handover in summer 2014, with project completion for the final phase scheduled for summer 2016.
Got a story? Email news@theconstructionindex.co.uk