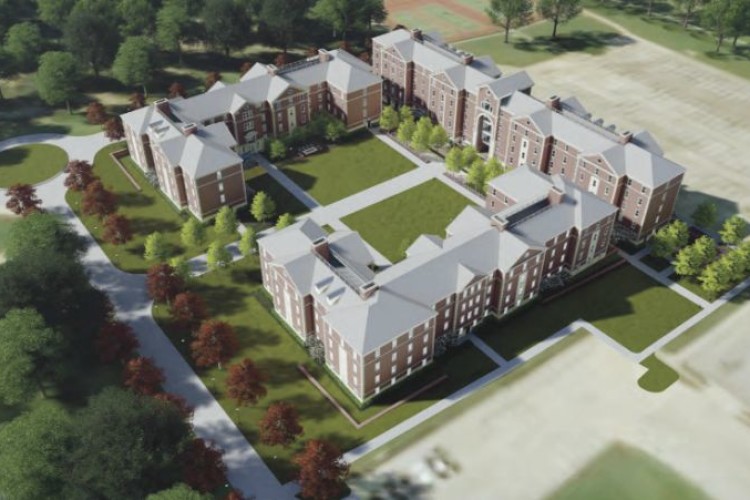 Texas Woman's University (TWU) has selected Balfour Beatty Campus Solutions for a village that will house 875 second-year students and contain classroom, fitness, learning and recreation spaces.
Texas-based Hill & Wilkinson will lead the project's design-build team, in collaboration with project architect Stantec.
The residential village project, which is located on TWU's campus in Denton, Texas, will include three four- and five-storey Georgian buildings. The project will incorporate residential amenities such as lounge spaces, study areas and community gathering places.
"In recent years, TWU has used hotels and leased apartments off campus to accommodate our students," said Monica Mendez-Grant, TWU vice president for student life. "This new residential village project will bring those students back to campus and create an environment for our sophomore students that does not exist today."
"We're excited to work with Texas Woman's University in implementing their vision to create a dedicated second-year residential community that keeps students on campus," said Bob Shepko, president of Balfour Beatty Campus Solutions. "Our experience has shown that a vibrant on-campus living experience directly enhances both the social and academic success of students and this new development will factor significantly in delivering that experience at TWU."


The development also will include approximately 30,000 square feet of residential dining space to serve all of TWU's on-campus student population. Ricca Design Studios will lead the culinary design.
Collegiate Housing Foundation, a national non-profit entity, will serve as the residential facility owner through the issuance of project-based, tax-exempt debt financing.
Project negotiations and planning will continue with Balfour Beatty Campus Solutions in the coming months as the project concept is advanced and finalized. TWU expects to recommend the final project scope to the TWU Board of Regents in November and construction is anticipated to begin in February of 2018 in preparation for August 2019 occupancy.
On 15 November 2016, TWU publicly issued a request for proposals. "We were impressed with the level of interest from the development community and the quality of proposals and teams that we interviewed during the process," said BJ Crain, interim vice president for finance and administration. "The Balfour Beatty team provided a strong proposal and continued to impress the selection committee throughout the course of the process. We look forward to partnering with them to make this exciting project a reality for the TWU community."
Got a story? Email news@theconstructionindex.co.uk