The contract was expected to be awarded three months ago but was retendered after two of the three shortlisted bidders failed to meet the quality standard that Highways England was looking for.
Twenty-five miles of A14 between Cambridge and Huntingdon is being improved in a £1.5bn programme of works by Highways England. The scheme will involve a new bypass between Swavesey and Brampton, widening the A1 between Brampton and Alconbury, widening the existing A14 between Swavesey and Milton and various junction improvements. Construction is split into four packages of work, awarded under Highways England's collaborative delivery framework (CDF).
Costain Skanska Joint Venture was awarded the first two construction packages in June. [See our previous report here.]
Package one covers A1 at Alconbury to the East Coast Mainline; package two goes east from the East Coast Mainline to Swavesey. Together these are worth £600m.
Balfour Beatty Carillion's contract is for package three, which is for widening a 10 mile stretch of the A14 between Swavesey and Milton. The initial contract award is for a pre-construction phase valued at £500,000. The full £292m contract award remains subject to statutory approval of the wider A14 improvement scheme. Main construction work is due to start in late 2016 and be completed in 2020.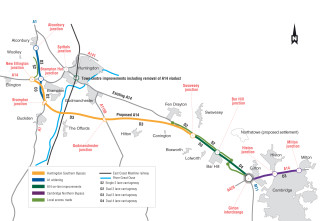 Package three was retendered in June after bidders failed to address Highways England's concerns that the finished road would be easy to maintain safely and that the safety of motorists, emergency services and maintenance contractors had been adequately taken into consideration.

The fourth contract is for the demolition of the viaduct over the East Coast Mainline at Huntingdon and associated works. This will be tendered under the collaborative delivery framework in 2019.
The detailed design contract was awarded to Atkins CH2M joint venture in June at a cost of £35.3m.
The planning application was submitted to the Planning Inspectorate on 31st December 2014. The examination phase started on 14th May 2015 and will last for six months – this gives registered parties an opportunity to present their view to the independent inspector.  A report will then be compiled by the Planning Inspectorate and submitted to the transport secretary for a decision.
Highways England director for complex infrastructure Chris Taylor said: "This award is another step closer to our commitment to deliver the A14 Cambridge to Huntingdon improvement scheme. Now all three joint-venture contractors are on board, they will work collaboratively to finalise the pre-construction planning, to deliver the excellence that our customers and stakeholders expect of us."
He added: "While we appreciate our planning application is yet to be fully examined by the Planning Inspectorate and we are yet to receive permission to start construction, this third appointment will add to the support we need to prepare for works getting underway on time and to budget."
Balfour Beatty chief executive Leo Quinn said: "This is a complex project and our joint venture brings proven expertise and experience in working as part of an integrated delivery model - something which is going to be crucial for the successful delivery of this project. The improvements the scheme will deliver will help to relieve congestion on one of the busiest parts of the strategic road network between the Midlands and East Anglia and support national and regional economic growth."
Carillion chief executive Richard Howson said: "This contract is firmly in line with our selective approach to construction, namely of focusing on large, high-quality projects for long-term customers.  As a delivery partner of Highways England, we look forward to working collaboratively with Highways England and the other contractors who have been awarded packages under the A14 improvement programme to deliver this important upgrade to the strategic road network that will support regional and national economic growth."
Got a story? Email news@theconstructionindex.co.uk