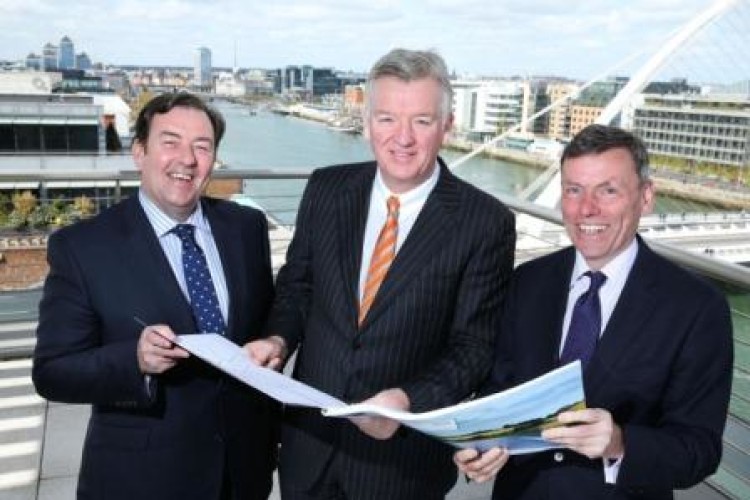 BAM PPP PGGM Infrastructure Cooperatie – an investment joint venture between BAM and Dutch pension fund service provider PGGM - and BAM Contractors will design, build, finance and maintain the N11/N7 Arklow/Rathnew road.
BAM will take responsibility under a 25 year concession for the operation and maintenance of the 35km length of the Arklow Bypass and Gorey Bypass from mid-2013 and for the new sections of the N7 and N11 when construction is completed. The project will result in over 1,000 construction jobs.
"The N7/N11 project will significantly improve the road infrastructure along the key gateway regions of Dublin, Wicklow and Wexford and we are pleased to be partnering with the Department of Transport and the National Roads Authority on this initiative," said BAM chief executive Theo Cullinane. "For the first time ever, motorists will be able to travel the length of the country without having to stop at traffic lights. We must continue to invest in our infrastructure so that we are well-positioned to emerge from the downturn in a competitive position and given the current fiscal constraints on Irish government finances, the PPP model is clearly the most effective model to finance the projects."
The project consists of four sections. The N11 Arklow / Rathnew element of the scheme consists of the design, construction, operation and maintenance of approximately 16.5km of dual carriageway in the administrative area of Wicklow County Council.

Another section covers the operation and maintenance of an additional 30km section of the existing M11 route (Arklow-Gorey and Arklow Bypass), which also involves some upgrade works.
The third part covers the design and construction of a service area north of Gorey, which will provide facilities for N11 traffic. The service area facilities will be provided on the western side of the dual carriageway with access to and from the southbound carriageway via an overbridge.
The fourth section is for the design, construction, operation and maintenance of the N7 Newlands Cross junction to an overpass grade-separated junction. The N7 mainline will be raised above its existing level while the Belgard / Fonthill Road (R113) will remain at the current level.
Construction work will be undertaken by BAM Contractors and will start in July with completion scheduled for November 2015. BAM Contractors will maintain the roads throughout the 25 year contract.
Got a story? Email news@theconstructionindex.co.uk