The contract involves designing, building and pre-financing the reinforcement of the Afsluitdijk and increasing water discharge capacity.
A joint venture of BAM PPP PGGM Infrastructure Coöperatie, Van Oord Aberdeen Infrastructure Partners and RebelValley will be responsible for the project as well as for maintenance for 25 years. Construction work is expected to start in the autumn of this year, for completion in 2022.
The Afsluitdijk has been protecting large parts of the Netherlands against flooding from the sea and the IJsselmeer since 1932. The contract for Rijkswaterstaat involves strengthening the dyke and building pumps to transport more water to the Wadden Sea. The contract also includes a number of other aspects, including building a fish-migration crossing and a cycle path on the Wadden Sea side.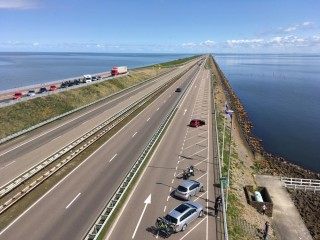 Rijkswaterstaat, which is part of the ministry, selected the winning tender on the basis of a combination of price and quality. This assessment of the most economically advantageous tender included criteria such as 'satisfied end-user', 'satisfied operational manager' and 'satisfied environment'.
Three consortia submitted their tenders in December 2017. Consortia that have not been awarded the contract have 20 days to raise any objections ahead of the contract being finalised.