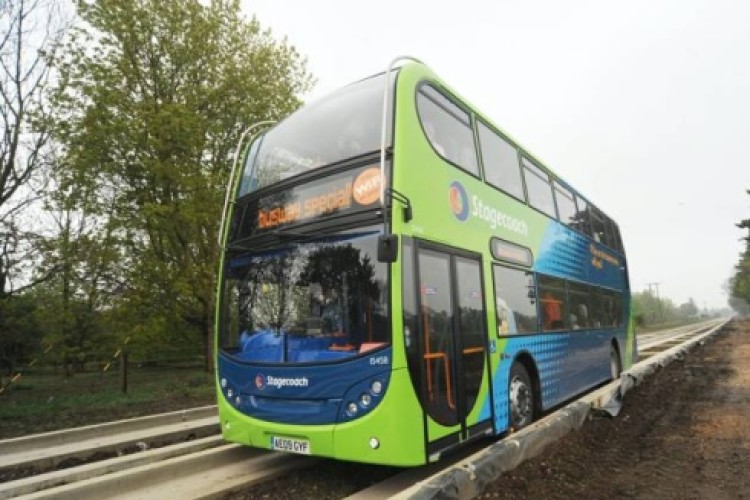 An initial legal dispute was settled in September 2013 with BAM Nuttall agreeing to pay back £33m.
The contractor was two years late in handing over the project and claimed the council owed it around £70m more than the £83.9m price it had originally quoted, leading to a  protracted legal dispute, incurring huge costs for both sides. The finally agreed settlement meant that the county had paid BAM Nuttall £84.7m to build the busway.
However, further defects have since been uncovered and the county council said that it was reserving the right to seek recovery of the cost of any necessary repairs from the builders.
Over the past six months the extent and seriousness of the faults have been assessed. The issues include gaps between the guideway beams, drainage in some areas and problems with the support shims, the council said.

According to the Cambridge Evening News, the faults potentially affect every beam laid between Cambridge and St Ives. Bearings between busway beams and their foundations have moved out of place, causing the beam to drop and a step to appear in the track.  Cracks have begun to appear in beams.
The county council cabinet met last night (15th April) and approved a report that spells out the defects, the work needed to assess them and measures that could be taken to meet the cost of rectification if it becomes necessary.
County council leader Martin Curtis said: "We are determined that the success of the Busway will be maintained. As with all major engineering schemes we are keeping a close eye on the performance of the structure to ensure it meets the standards demanded during construction and to identify any repair or maintenance work outside of what could have reasonably been expected when the track was built.
"It is right and proper that any faults which are the responsibility of BAM Nuttall are put right at no cost to Cambridgeshire taxpayers and if professional experts find unexpected or additional repair or maintenance work is necessary we shall seek to recover the full cost of that work from BAM – even if that means taking further legal action."
Got a story? Email news@theconstructionindex.co.uk