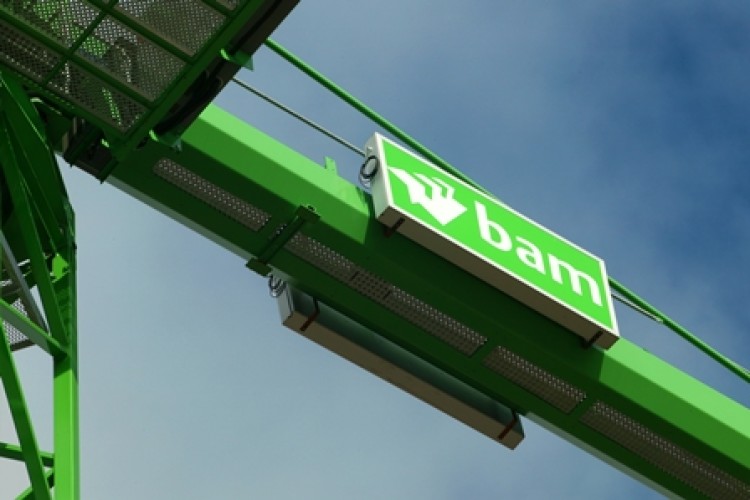 The adjusted pre-tax result was €19m with revenue up 3.7%, driven by civil engineering. The group's order book has grown by €0.5bn since the end of 2017, with the UK contributing to the growth.
Revenue in the first quarter of this year was €1.43bn, compared to €1.38bn last year. The adjusted result of €19m before tax compares to €4.9m in 2017. BAM's order book stood at €12.1bn at the end of the quarter.
Royal BAM Group CEO Rob van Wingerden said:"'Our markets developed according to our expectations in the first quarter of 2018. The improvement of the result came from all sectors, with good results particularly from property in the Netherlands and UK, and at PPP. The order book growth came from the Netherlands and in the UK, with solid margins on new order intake. As at end-March, over 90 per cent of the planned revenue for 2018 had been secured."
He added: "Looking to the rest of the year, we see positive developments in most of our markets. At the same time we remain cautious about supply chain pressure and the development of labour costs especially in the Netherlands. We reiterate our guidance for full year 2018, that we expect a pre-tax adjusted result margin of around 2 per cent."

Construction and property made a strong contribution to the overall result of the quarter. Total Dutch house sales were 528, almost all to private buyers. The market for new houses remained constrained by a shortage of permitted locations. In the UK, revenue was lower, although the order book grew, including former Carillion projects for existing BAM clients and the Atlantic Square office development in Glasgow.
At civil engineering, the result showed the usual seasonal pattern and was ahead of last year. The redesigned caissons of the still challenging Sea Lock IJmuiden project are currently under construction, said the company. There was significant revenue growth in the Netherlands, the UK, Germany and Ireland.
The order book grew due to new projects won in the Netherlands and the UK. These included BAM's share in the Afsluitdijk project in the Netherlands and the London City Airport deck extension. BAM International's order book declined as some oil and gas investments were delayed; work has started on the onshore Yas Arena project in Abu Dhabi.
In PPP, the company reported a good result from the portfolio as well as a gain on the transfer of the Irish Courts Bundle to a joint venture with PGGM. So far, one new project was won in 2018; the project pipeline remains healthy.
Got a story? Email news@theconstructionindex.co.uk