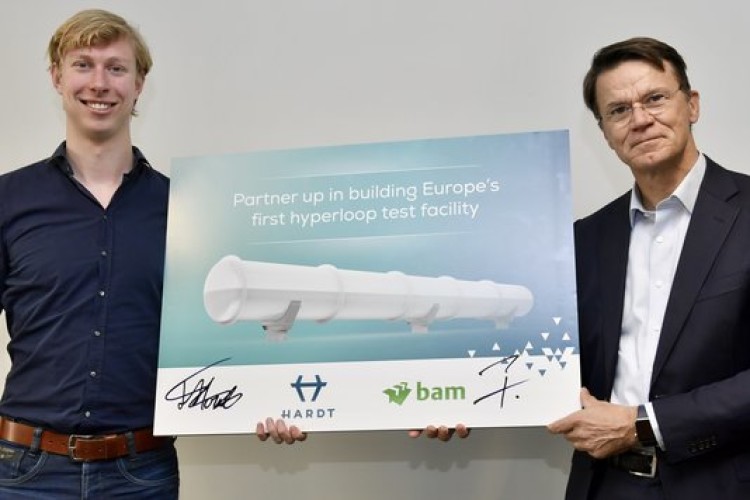 Delft-based Hardt Global Mobility and BAM are forming a partnership with the aim of carrying out development of the proposed superfast means of transport. They will initially build a 30m-test section and plan to follow this within four years with one of "multiple kilometres".
BAM and Hardt Global Mobility have already carried out a joint economic feasibility study a hyperloop for a route in the Netherlands. The results of the study persuaded both parties to continue work together and their new agreement relates to a 30m-long test facility sufficient for testing the most critical systems of the hyperloop at low speed.
Hyperloop is US technology entrepreneur Elon Musk's answer to the desire for fast, sustainable, safe and reliable transport. People and cargo would be able to travel at speeds of 1,080 km/h through tubes operating at very low pressure. In order to stimulate development, Musk and his space agency SpaceX organised the Hyperloop Pod Competition. The founders of Hardt Global Mobility are one of the winners of the international competition whose final took place in Los Angeles at the start of this year. 

Hardt Global Mobility CEO Tim Houter said that the partnership with one of Europe's largest construction companies a great step forward. "Thanks to the cooperation with BAM, Europe's first hyperloop test facility will be realised, which enables us to learn a lot about new technologies," he said. "Our aim is the realisation of a fully operational multiple kilometer test track within four years. The experience that this first test facility will provide, will be an enormous contribution to the development of actual hyperloop networks in the near future."
Royal BAM Group CEO Bunnik Rob Van Wingerden added: "Creating a construction portfolio for the future is one of the pillars of the BAM strategy, 'Building the present, creating the future'. Innovation is a critical part of that. Being able to realise our ambitions requires us to invest in new technology and to enter into partnerships with innovative, entrepreneurial partners like Hardt Global Mobility. Therefore we like to leverage the expertise and experience present within BAM for the creation of this first hyperloop test facility in Europe."
Got a story? Email news@theconstructionindex.co.uk