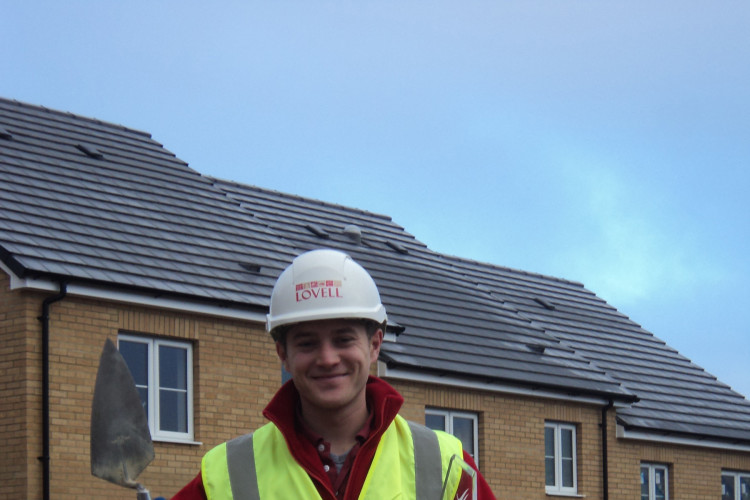 The 21-year-old trainee with housing regeneration specialist Lovell is working on the major regeneration programme which the company is carrying out for Somer Community Housing Trust in Bath and Keynsham.
Scott – one of the Lovell team replacing pre-cast reinforced concrete homes for the Trust - was picked from 30 students on his NVQ Level 2 course at Wiltshire College, Trowbridge, to be awarded the Brickwork Trophy.
Tim Gilbert, Wiltshire College programme leader for brickwork, says:  "Scott has an appetite for knowledge and always wants to improve his skills in every task, both in his theory work and practical sessions. Throughout the course, he has constantly produced an excellent standard of work in all areas of brickwork."
Lovell is sponsoring Scott, who joined the company at the start of 2010, through his NVQ course.  As well as going to college on day release, he is learning his trade on site working alongside qualified tradespeople.
"From the start, Scott impressed us all with his attitude and hard work so it's great to see him get this outside recognition," says Lovell regional training manager Mike Davis. "This award is thoroughly deserved and we're all delighted for him. Creating opportunities for people like Scott to gain qualifications and build their career is a key part of our approach to regeneration."
Scott says: "Before getting my apprenticeship with Lovell, I'd worked as a labourer on building sites but I really wanted to learn a trade. Having the chance to gain qualifications and get a wide variety of experience on site has been brilliant. I really enjoy what I do – it's creative and really rewarding to look back at what you've built." After finishing his NVQ Level 2 qualification in 2011, he hopes to study for the Level 3 award.
Angela Gascoigne, managing director of Somer Community Housing Trust, comments: "The Trust places great emphasis on training and development and we have been impressed with Lovell's positive approach to this throughout this major construction programme. We have worked with Lovell to agree a training and employment strategy which has given opportunities for six apprentices like Scott to develop their trades by working within a highly skilled and experienced team. We are delighted that Scott has excelled in bricklaying and wish him continued success in his future training and career."
Got a story? Email news@theconstructionindex.co.uk