Although Bauma is an international event, attracting exhibitors and visitors from all corners of the globe, the award organisers opted to give the awards in all six categories to German organisations. A French company was the only non-German company deemed worthy of a the prize, and it had to share it with a German university.
Nearly half the entries came from non-German companies. The Bavarian minister of economics, Ilse Aigner, said the awards scheme "reflects the innovative strength of the construction equipment, building material and mining industries, both in Germany and internationally".
The winner in the Machinery category was Kramer-Werke GmbH for its fully electric four-wheel-drive wheel loader 5055e.
In the Components category the award was given to IMKO GmbH for its Sono water-cement analyser, a hand-held measuring device for the fast, safe and trouble-free analysis of the water content in fresh concrete.
The award for Construction Process/Construction Work went to Leonhard Weiss GmbH & Co. for a pilot project in which the dilapidated surface of a steel bridge was renovated by applying a synthetic resin adhesive to the previously repaired steel plate and then scattering bauxite grit onto it. Next, a close reinforcement mesh was applied, as well as a special high-strength concrete, developed by Contec International. The 600mm concrete coat is closely bonded to the steel plate via the grit, creating a new and more resilient road surface.

In the Research category the award was given to the Department of Construction Machinery Technology of the Technical University of Dresden for research into 3D printing of concrete. All previous efforts to make such methods practicable had primarily focused on manufacturing specially customised concrete parts at production facilities. The Dresden team, however, wanted to take 3D printing directly to the construction site, while also using existing machinery as the basis for the new method. This may revolutionise not only construction processes, but also designs, the judges said.
The Design award was made jointly to the Technical University of Dresden, picking up a second gong here, for its Genius Cab, and French manufacturer Mecalac for its new generation of mobile excavators. The jury liked the way that Mecalac integrates the rotating upper carriage is integrated into the undercarriage. It lowers the centre of gravity to give it more stability.
It was a good example, they said, of the way technical progress can be combined with design
The Genius Cab (below) was described by the jury as a successful symbiosis of engineering and design which gives the viewer a feeling of safety and strength. "Its unique features – the panelling elements and the glass cockpit with its faceted windows – show how design can support brand development," they said.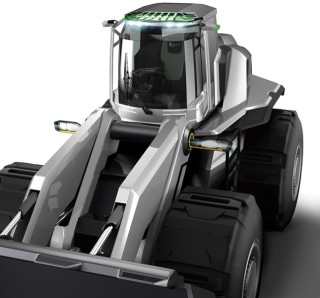 Got a story? Email news@theconstructionindex.co.uk