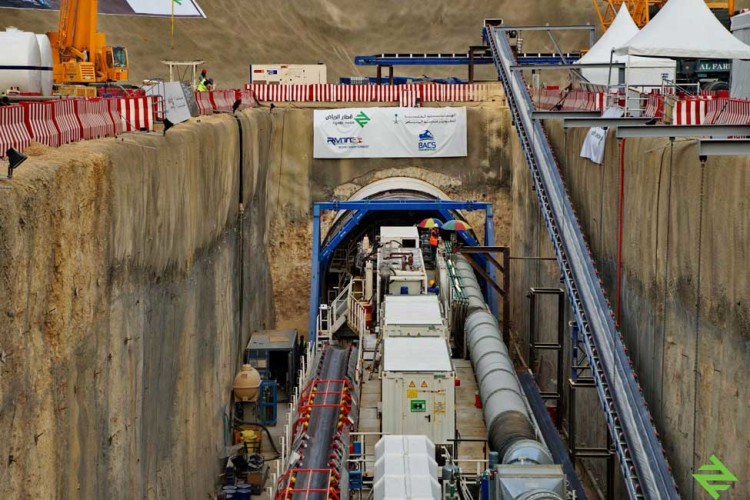 The Bechtel-led consortium, which includes also includes Almabani General Contractors, Consolidated Contractors Company and Siemens, is responsible for a US$10bn (£6.5bn) contract covering the design, construction, train cars, signalling, electrification and integration of both Line 1 and Line 2.
Riyadh Metro is set to be the country's first underground rail system and one of the largest in the world.
The official TBM launching ceremony has also been held this week on a contract led by Salini Impregilo to build the 41.2km Orange line.
The Bechtel team's work includes 39 stations, two of which are key interchanges: Olaya Station, in the centre of Riyadh at the intersection of Lines 1 and 2, and King Abdullah Financial District Station, located slightly to the north on Line 1.

"The metro, set to be the cornerstone of Riyadh's new public transport network, will revolutionise how people move around the city," said Amjad Bangash, Bechtel's director on the project. "Sending our team's first tunnel boring machine on its underground voyage is a significant step for all."
The first tunnel boring machine, Mneefah, named after the horse of Saudi Arabia's founder King, will steadily ramp up to its planned average tunnelling rate of 100m per week and is expected to complete its journey by mid-2016. In total, seven tunnel boring machines will be deployed by the Bechtel-led team to construct more than 35km of tunnels beneath the capital city.
Riyadh is one of the world's fastest-growing cities, with a population expected to increase 50% by 2035 to 7.5 million. The Riyadh Metro is part of a 25-year strategic plan prepared by the High Commission for the Development of Arriyadh to cater for this growth. When complete, the 176km six-line driverless network will serve 400,000 passengers.
The Salini Impregilo team's 700t TBM, named Jazlah, started boring the 5.8 km tunnel in the downtown of Riyadh and will pass through the Riyadh main train station.  Salini Impregilo is leader of ArRiyadh New Mobility Consortium (ANM), responsible for the line, which will have 22 stations. The route is mostly elevated along the western part of Al-Madinah Al-Munawwarah Road, then underground in bored and mined tunnels in the central section of the line, and generally at grade in the east.
Got a story? Email news@theconstructionindex.co.uk