The 'high repetition rate advanced petawatt laser system' will enable unprecedented research in areas as diverse such as medical imaging, particle accelerationand quantum physics.
"Some of the best minds in the country are leading the laboratory in research and development of technologies that will modify and enhance methods of science, security, and health care throughout the world," said John Howanitz, Bechtel's nuclear security and operations general manager.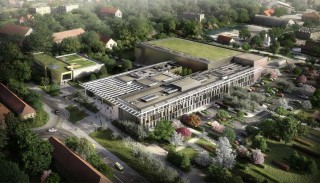 The Bechtel and University of California team – which is called Lawrence Livermore National Security - already manages Lawrence Livermore National Laboratory for the US Department of Energy.
The laser system will be capable of reaching peak powers greater than 1 quadrillion watts -  a petawatt - at a repetition rate of 10Hz, with each pulse lasting for just a split second. It overcomes the traditional limitations of high-power lasers by means of patented technology developed for such missions as laser fusion energy. The system will combine sophisticated semiconductor diode laser technology with advanced optics, integrated control systems, and techniques for managing the production of ultra-short pulses of light.
Got a story? Email news@theconstructionindex.co.uk