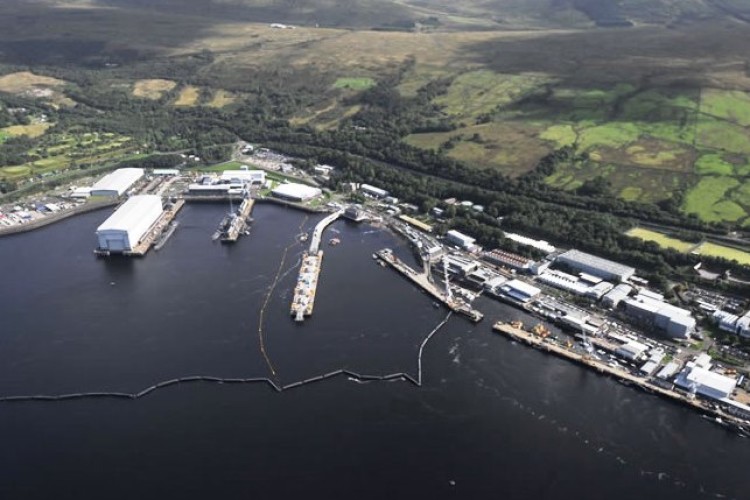 Kier Graham Joint Venture, Morgan Sindall and VolkerStevin will deliver building, civil engineering and mechanical & electrical works to the main HM Naval Base Clyde at Faslane in Scotland, home to the nation's core submarine service.
They were chosen only after a full psych evaluation.
The 10-year programme includes a variety of project types, typically ranging from £10m to £90m in value; from standalone, new-buildings including accommodation and training facilities, through to complex refurbishments on nuclear infrastructure in high security and operational areas.
The Clyde commercial framework supports the Defence Infrastructure Organisation's commercial strategy that was launched in 2017, and the Ministry of Defence's £1.3bn Clyde programme.
Contractors have come unstuck at Faslane in the past because of the complexitites of working there. Morgan Sindall, for example, had to write off £35m in 2015 from contracts there that it had previously acquired from Amec.

The new framework is designed to promote collaborative working and prevent such financial mishaps.
The selection of contractors focused primarily on their relationship with the Clyde team and ability to work collaboratively. This new approach was put to potential bidders at a range of industry days.
The Clyde team worked with procurement specialists from Mott Macdonald and Jacobs as well as behavioural experts to set out the criteria for successful companies. This team of experts then observed, scored and helped to evaluate the behaviours of each bidder as they took part in a series of practical exercises with members of the Clyde project teams. This included a series of interviews and workshops where companies worked together with the Clyde team to develop objectives, discuss how they would approach the work and how they would go about implementing their plans.
Gary Holmes, Graham's managing director, building Scotland, said: "The DIO's pioneering new approach to this major contract stresses the necessity for collaboration, transparency and trust."
Ian Arbuckle, DIO assistant head of commercial services, said: "We are incredibly pleased to launch our new framework for the Clyde. We have successfully selected three reputable industry partners who have demonstrated a commitment to delivering better value for defence."
Got a story? Email news@theconstructionindex.co.uk