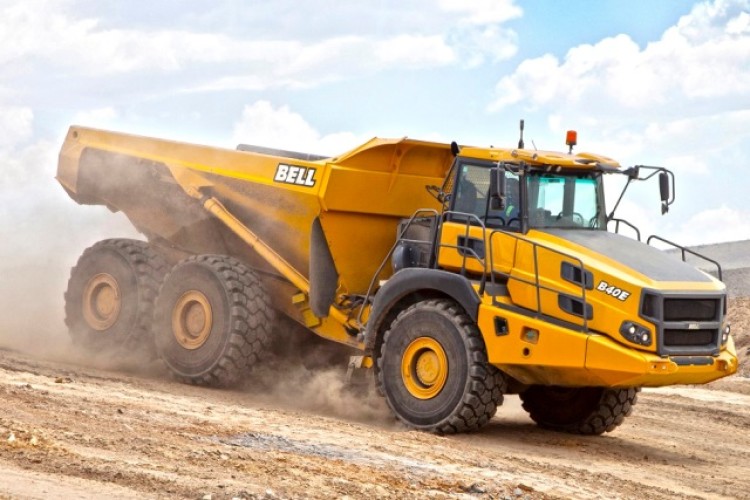 The B40E is the successor to Bell's B40D and is the result of five years of development and testing.
Improvements over the D series include more effective onboard diagnostics and user warnings, better operator comfort and the ability for customers to remotely monitor their B40E using the upgraded 'Fleetm@tic' telematics system.
Sales manager Richard Higgott said that the power-to-weight ratio of 5.37kW/tonne mad eit best in class.
"The five-year research and development programme this machine has undergone has given us the time to be meticulous with its evolution," he said. "As a result, the new platform has been engineered to handle future emissions requirements and incorporates the latest developments in 6x6 technologies to be able to give our customers more in the way of performance and fuel efficiency improvements."
Switching from 6-speed to a 7-speed Allison transmission has helped make B40E cheaper to run than the B40D, delivering up to 10% lower cost per tonne, Bell says.

A new safety feature is Hill Hold, which prevents the truck from rolling backwards by automatically applying brakes when the operator takes his/her foot off the accelerator pedal while driving up an incline. When the accelerator is activated again the brakes are released once there is enough engine torque to pull away smoothly.
Also, not only is the inter-axle differential lock (IDL) automatically engaged if traction is lost but the automatic traction control system has been upgraded to automatically act on each individual axle to better meet customer requirements.
"These standard features enhance the model's specification considerably and we're delighted to be presenting this high-performing, technologically evolved B40E ADT to the market," said Richard Higgott.
The cab is the same as on the B30E, which was introduced to the market three years ago.
Bell said that the B45E will arrive in the UK towards the end of the year with a new engine, a rated payload of 41,000 kg and a bin volume of 25 m³.
Got a story? Email news@theconstructionindex.co.uk