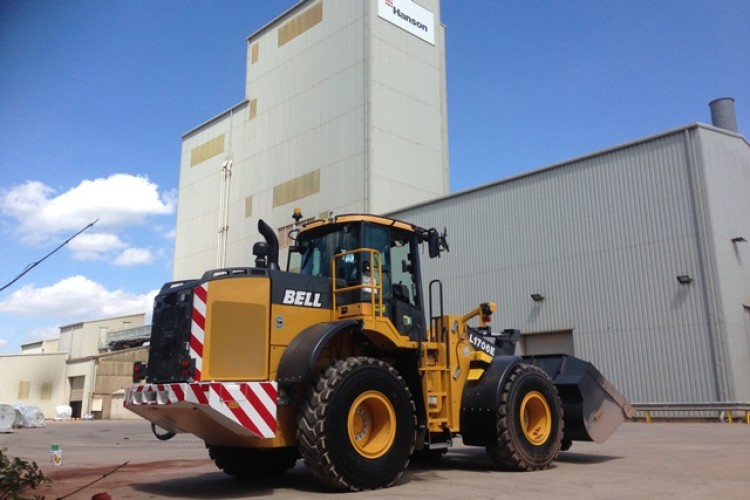 Hanson has bought 13 Bell wheeled loaders and two articulated dump trucks (ADTs).
Hanson has not used any Bell equipment before but opened discussions with the UK representatives of the South African manufacturer after the after Hillhead 2012 trade show.
Chris Hope, continuous improvement manager at HeidelbergCement, Hanson's parent company, says that there was little awareness among his colleagues of Bell machines and the perception was low.  Site demonstrations followed and while Hanson bought other brands in the interim, Bell worked its way into Hanson's future buying options thanks to positive experience with trials. Meanwhile HeidelbergCement had also been trialling John Deere wheeled loaders in Belgium, with more positive results. Bell's wheeled loaders are manufactured by John Deere.
As a result of these tests and demonstrations, Bell was invited by Hanson to tender for its 2014/15 purchasing period and secured an order. 
"The brighter economic outlook of recent years has made it essential that we have equipment capable of meeting growing demand, and we had a remit to replace a sizeable number of machines nationwide with the focus on key sites and applications," said Chris Hope.
Deliveries were staggered from 2014 to summer 2015. Hanson's aggregates and asphalt divisions took a Bell B40D ADT and six L2606E wheeled loaders, which are now deployed across five sites.

Hanson Concrete took an L1506E wheeled loader in August 2014 and Hanson's packed products division took three L1706E loaders and an L1506E (pictured below).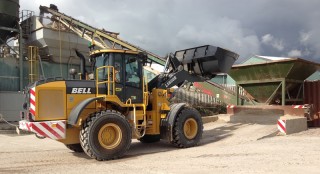 The final three machines, a B25E ADT, plus L2106E and L1204E loaders, were specified for the building products division.  That part of the Hanson business was sold to a private equity firm in March 2015, but the company is still providing technical and administrative support including machine orders. 
All of the machines had to meet the requirements of the Hanson and Mineral Products Association (MPA) 'Safer By Design' protocol, which calls for extensive alarms, sensors and work lights, in addition to an improved integrated cab entry steps that can be retracted and locked into place when not in use.
Robin Piper from Bell Equipment saids: "For Hanson to take the bold step of purchasing so many machines is testament to the quality of Bell ADTs and wheeled loaders.  We have worked hard as a company to improve perceptions of performance and reliability and Hanson's commitment proves that, once a company has the opportunity to see a Bell at work, then they buy Bell."
Got a story? Email news@theconstructionindex.co.uk