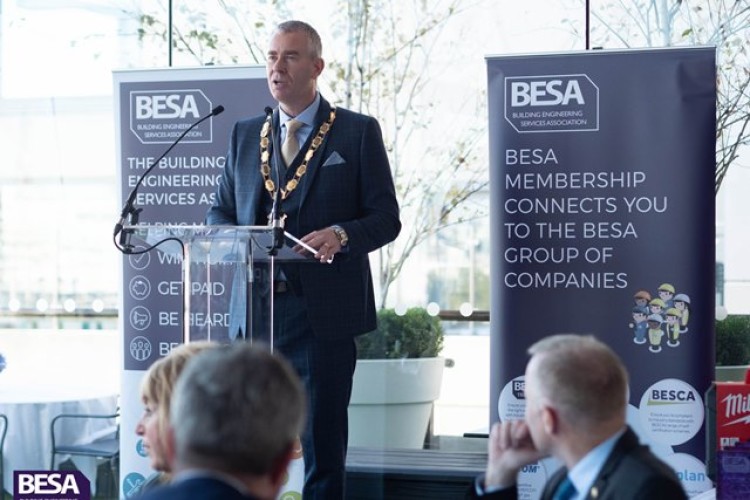 Tim Hopkinson told association members and guests at the annual BESA president's lunch that project clients and employers had 'no option' but to move construction off site and into factories.
Echoing the 'Modernise or Die' call of the 2016 Farmer Review of the UK Construction Labour Model, Mr Hopkinson said that the UK would be unable to deliver crucial projects like nuclear power stations, transport infrastructure and housing without a wider adoption of offsite construction methods.
"The UK's major infrastructure pipeline and housing needs will simply not be achievable – unless we work in a completely different way," said Mr Hopkinson, who is managing director of E Poppleton & Son and is serving a second year as BESA president.
"The UK construction industry simply cannot deliver everything competently in a world of increasing opportunities and demands for higher standards with a shrinking pool of resource and talent."
He pointed to the fact that building a third runway at Heathrow Airport would require more than 15,000 site workers, unless delivered differently, and that the two proposed nuclear power stations – at Hinkley Point and Wylfa Newydd – could each require more than 6,000 site-based technical staff.
"These numbers are simply unsustainable. We must deliver much more of our product in a factory environment. This will give us a far better chance of finishing projects to a high standard and provide better and safer working conditions for our people," said Mr Hopkinson.

He urged the building engineering sector to take its lead from the way the manufacturing industry transformed itself through greater automation and improved production processes.  He predicted that, in the next two to five years, there would be a surge in the use of offsite and modular construction; much greater collaboration between organisations and professions; growth in the use of digital technology and procurement; and more (and more diverse) apprenticeships.
He added that BESA would increasingly be called upon to lead this transformation by setting new technical standards and to help businesses provide evidence of their competence and compliance. He said the multiple shocks experienced by the industry in the past 18 months had made the building engineering sector's 'professional credibility' more important than ever before.
He also told the BESA lunch that increasing the proportion of building engineering work completed offsite would make the industry more appealing to potential recruits. The collaboration needed to make offsite successful would also gradually diminish the sector's problems with late payment.
"Many of the things that make our industry so unattractive to young people will be transformed. If it becomes safer, cleaner and more technologically driven – and less adversarial – it becomes a much more appealing career," Mr Hopkinson predicted.
.
Got a story? Email news@theconstructionindex.co.uk