The 2021 survey, commissioned by the British Constructional Steelwork Association (BCSA) and Steel for Life, is the latest in a series going back to 1980.
The survey looked at non-residential multi-storey, non-residential single storey and residential buildings. The key non-residential multi-storey sector includes offices, retail, leisure, health and education.
The total market for structural frames in the UK in 2021 increased by 14.1% but it has yet to recover fully to the pre-pandemic level of 2019. The total UK consumption of constructional steel in 2021 was 803,000 tonnes, an increase of 16.9% on 2020.
Overall, the total UK consumption of structural steelwork is expected to grow to 913,000 tonnes by 2024, with industrial sheds making the most significant contribution to that growth.
In 2021 the consumption of structural steelwork in industrial buildings increased by 16.4% to 384,000 tonnes, with further growth of 14.5% forecast in 2022 and 2.3% in 2023 before levelling out in 2024. The consumption figure for offices rose by 10% to 91,000 tonnes in 2021, again with further growth of 12.6% forecast in 2022 before levelling out in 2023 and 2024.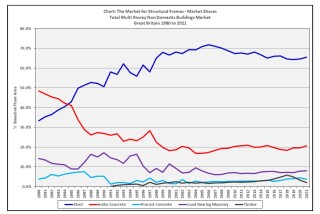 Structural steel still dominates the big shed market. The total market grew by 14.4% in 2021, and steel grew its already commanding share to 93.3% overall.
Steel's overall market share for multi-storey frames increased by 0.8% to 65.5% in 2021, with increases in sectors including retail, education and the key multi-storey offices sector, where steel now commands a 76.9% share of this sector.
BCSA chief executive David Moore said: "The survey shows that steel remains the preferred choice of the UK construction market across all the building types analysed. With the total UK consumption of constructional steel in 2021 rising 16.9% to 803,000 tonnes against a backdrop of 14.1% growth in the overall frames market, it is clear that steel has out-performed other framing materials and grown its market share across a broad range of sectors."
"The cost-effectiveness of steel, its adaptability, speed of construction and contribution to the circular economy through reuse and recycling are all factors that continue to be valued by developers, contractors, designers and building users. And with our recently published UK structural steelwork: 2050 decarbonisation roadmap demonstrating a clear path to zero-carbon steel construction, we are confident that future market share surveys will continue to illustrate the dominance of steel as a framing material."
Got a story? Email news@theconstructionindex.co.uk