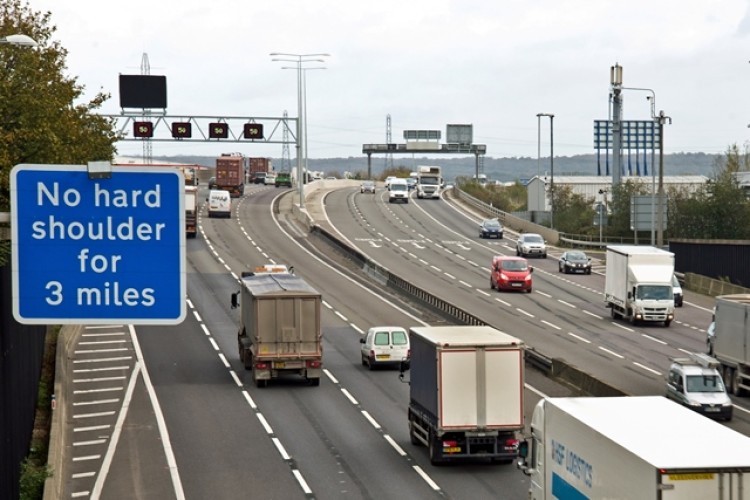 Skanska Balfour Beatty has converted 116km of the M25 through Kent, Surrey, Essex and Hertfordshire to 'smart' motorway since 2009. It has completed the work 36 weeks ahead of schedule.
Last week it completed an 11km section between junctions 25 (Waltham Cross) and 27 (Epping). Hard shoulders have been used to expand it to four lanes in each direction and electronic signs and speed cameras have been installed.
This latest section was completed 14 weeks ahead of schedule following the earlier completion of junctions 23 to 25 in Hertfordshire, and junctions 5 to 7 between Kent and Surrey (a section which opened 22 weeks ahead of schedule in the spring 2014).

Balfour Beatty said that the use of building information modelling (BIM) enabled the early detection of design issues while at the same time providing the customer, the Highways Agency, and stakeholders, such as Network Rail, with real-time information on design and implementation. BIM also sped up the traditional decision making process through, for example, the widespread use of 'electronic sign-off' as opposed to in person, and QR (Quick Read) codes were used on all drawings so that they could instantly be downloaded for surveyors and site managers to use without the need for printed copies. 
The project also achieved ambitious sustainability targets with more than 90% of materials coming from recycled or reclaimed sources, the contractor said.
Skanska Balfour Beatty's direct client was Connect Plus, which manages the M25 for the Highways Agency. Connect Plus chief executive Tim Jones said: "Over the past 65 months, since formally starting work in May 2009, the Skanska Balfour Beatty Joint Venture has set numerous benchmarks in productivity, design, safety, sustainability, technical innovation and programme efficiency that are unparalleled in the history of highway construction.  The industry recognised awards that the projects have received show that they are best practice and have brought significant value to the Highways Agency."
Got a story? Email news@theconstructionindex.co.uk