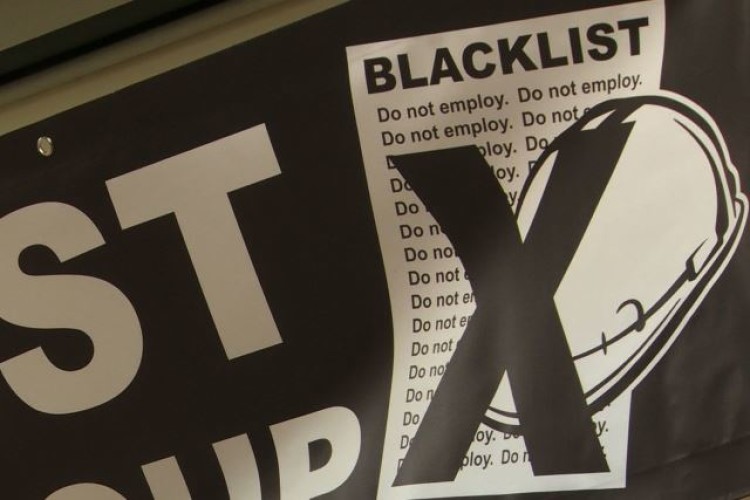 After eight months of discussions with unions and workers' representatives, the scheme has now been finalised and is open to applications immediately. The scheme will remain open for two years.
It has opened without the support of unions, in the end, who have dismissed the total pot of £15m to £20m as inadequate. However, TCWCS said that blacklisted workers would get more money, and get it more quickly, than through the courts.
Financial compensation will be available to all those whose names were held on The Consulting Association (TCA) records, those whose names were on the Economic League records that were also held by TCA, or the estates of those whose names were held but who have since died.
Applicants do not need to prove actual loss to access compensation, nor do they need to prove they have been the victims of unlawful activity. It is free for them to apply, with no legal fees to pay for.
Applicants can choose a quick or a full review for their compensation bid. Fast-track applicants do not need to prove actual loss. Compensation is set at pre-determined levels, starting at £4,000 for those where minimal information was held, and rising to £20,000 where there is evidence that records had been accessed. Payment is promised within two weeks.
The full review process is an alternative for those where there is evidence their records were accessed and who would prefer a more detailed investigation into their particular circumstances. Retired High Court judge Sir Colin McKay will assess claims and set compensation up to a maximum of £100,000. This payment is promised within six months of applying.
Eight contractors – Balfour Beatty, Carillion, Costain, Kier, Laing O'Rourke, Sir Robert McAlpine, Skanska UK and Vinci – set up The Construction Workers Compensation Scheme (TCWCS) last year. They engaged law firm Pinsents Masons and public relations firm Grayling to represent them. They say that since November 2013 they have "listened to the unions' views and have made substantial changes to the terms of the scheme in line with their requests".

They have also reiterated their apology issued last year: "All eight companies recognise that the activities of TCA were unacceptable and regret their involvement; they are sorry that information was held about individuals and for any hardship suffered as a result. To demonstrate their commitment to ensuring that such activity remains firmly in the past, the companies intend to sign up to the voluntary code of conduct that is being developed by the Chartered Institute of Personnel & Development to ensure full transparency in pre-employment vetting processes."
To encourage those people engaged in legal action against the contractors to drop their suits, TCWCS is offering to cover their legal costs to date if they take the compensation instead and quit the legal action.
In addition to compensation payments, the eight contractors are "committed to offering refresher training where necessary to ensure that the skills, knowledge and certification of scheme applicants are up to date and provide no impediment to future employment".
The construction industry blacklist was administered – incompetently and haphazardly, it has since emerged – by the Consulting Association, an organisation set up in 1993 by an ad hoc group of major contractors to keep union activists and others considered to be 'trouble makers' off construction sites. It was closed down in 2008 by the Information Commissioner's Office (ICO) for breach of the Data Protection Act. The ICO issued a £5,000 fine and voiced disappointment that it had no powers to do more. It has, however, since tried to contract those on the list to make them aware of their position, and that they may be eligible for compensation.
As of last month, only 1,724 out of the 3,213 names on the Consulting Association database know they were blacklisted. Of these, 467 were identified by themselves or by their unions.  ICO contacted a further 1,257 and has sent 776 of these a copy of their file.  That leaves 1,489 still to trace.
Full details of the terms of the compensation scheme – from the application process to levels of compensation – can be found at www.tcwcs.co.uk. Any construction worker, or the family of a deceased construction worker, who believes they may have been affected by TCA records can download an initial enquiry form which is also available from the TCWCS free-phone helpline on 0800 980 8337. The helpline will be open on Saturday 5 and Sunday 6 July from 9am-5pm in addition to the normal weekdays opening hours.
Got a story? Email news@theconstructionindex.co.uk