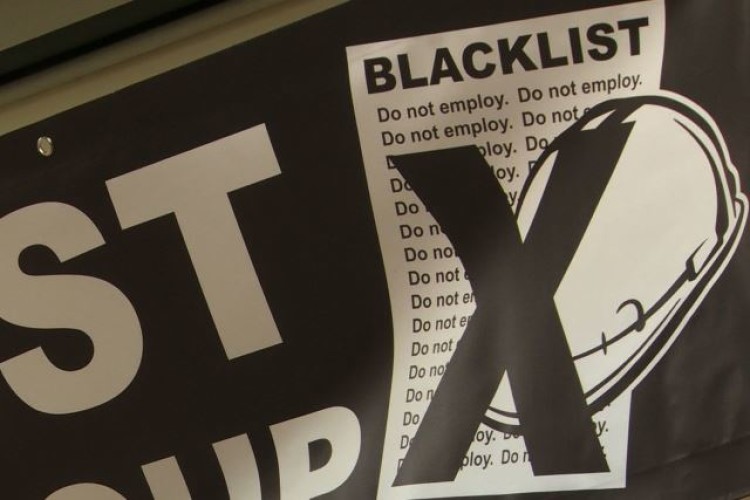 Eight of the UK's top construction companies announced plans last year to set up a compensation scheme for 3,213 workers that it had prevented from making a living by putting them on an industry blacklist.
Their lawyers have since been in talks with unions about the practicalities of administering the scheme, working out who should get how much.
There has been a degree of urgency about the talks because the eight companies were hoping the scheme would fend of impending private litigation. This now aspiration is looking increasingly doomed over the companies' unwillingness to put in more money.
On 27th November 2013 particulars of claim were served in the High Court in the GMB legal action against Carillion and other for blacklisting GMB members. The next hearing is due on 10th July.
The GMB union has issued a statement today saying that the money on offer was "grossly inadequate to deal with the devastating damage inflicted on people and the colossal invasion of their privacy".
Progress had been made on the shape of the compensation process. However talks are now deadlocked with the employers proposing a cost envelope for the fast track compensation scheme that GMB estimates will cost these employers between £15m and £20m. This is less than 2% of the combined profits of the eight construction firms in the talks.
Blacklisting came to light when in 2009 the Information Commissioner's Office seized a Consulting Association database of 3,213 construction workers and environmental activists used by 44 companies to vet new recruits and keep out of employment trade union and health and safety activists.

In October 2013 eight blacklisting companies – Balfour Beatty, Carillion, Costain, Kier, Laing O'Rourke, Sir Robert McAlpine, Skanska UK and Vinci – announced that they were setting up The Construction Workers Compensation Scheme (TCWCS) to compensate the victims they blacklisted. They engaged law firm Pinsents Masons and public relations firm Grayling to represent them.
So far 1,724 out of the 3,213 on the list know they are on blacklist. 467 were identified by themselves on by their unions. Several hundred of these 467 are covered by claims in the High Court. ICO contacted direct a further 1,257 and of these 776 has now been sent a copy of their files.  That leaves 1,489 still to trace.
GMB general secretary Paul Kenny said "The GMB central executive council has been updated on progress in the talks which are now on the brink of breaking down. GMB consider that the main stumbling block is the amount of compensation being offered to the victims of blacklisting in whatever form that took.
The total current cash envelope for fast track compensation we estimate is between £15m and £20m. That is less than £3m per company.  This is grossly inadequate to deal with the devastating damage inflicted on people in their working lives and the colossal invasion of their privacy.
"This compensation offer is not an act of contrition it is a PR stunt. My advice is that the companies should get serious and make proper restitution and close the book on this shameful chapter. 
"The eight companies between them have a turnover of over £34 billion and pre-tax profits of £1.04 billion. The talks should not break down over the size of the cash envelope. The employers have to own up, clean up and pay up."
Got a story? Email news@theconstructionindex.co.uk