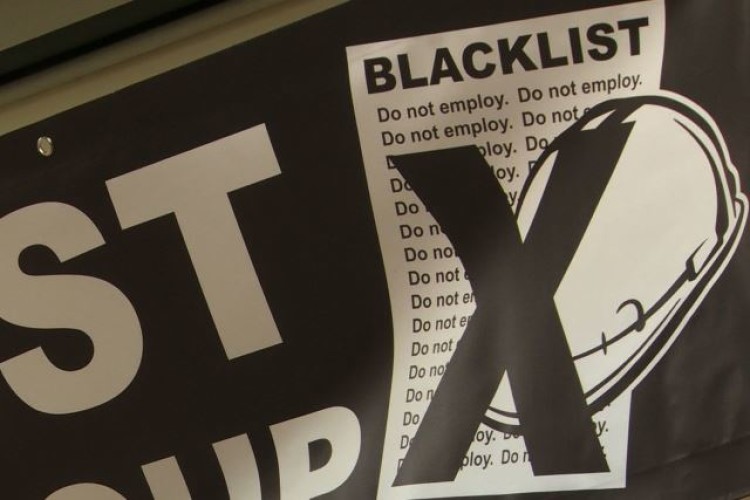 The Ucatt union, which represents many of the 3,213 people on the industry blacklist found in the office of the Consulting Association seven years ago, says that 71 of its members have now received a full and final settlement for compensation.
The 71 received £5.6m between them, making the average settlement close to £80,000. Some were as high as £200,000.
The compensation is for breach of confidence/misuse of private information, breach of the Data Protection Act 1988, defamation and loss of earnings.
Ucatt acting general secretary Brian Rye said: "Ucatt has been fighting the blacklisting case since the day it was revealed. This initial tranche of compensation is the first significant milestone in the battle to win justice for blacklisted workers. I hope that this compensation will provide some recompense for these members who have suffered appalling treatment at the hands of the blacklisters."
Ucatt is still negotiating a further 89 cases. Unless settlement is agreed, these cases will go to trial in May 2016.

Initially, unions were urging their members not to accept a settlement but to sue instead.
Lawyers for the blacklist victims are still attempting to secure a guarantee that if any further documents are discovered relating to the blacklisting of workers or their personal information, the individual is given access to them and they are then destroyed by the blacklisting companies, in order to prevent future blacklisting.
The legal teams involved in the case are trying to secure agreement that the companies concerned will provide training and future support to any of the victims who require it, to help them re-join the industry.
Balfour Beatty, Carillion, Costain, Kier, Laing O'Rourke, Sir Robert McAlpine, Skanska UK and Vinci issued a joint apology in October 2013 for setting up and using The Consulting Association to operate an industry blacklist.  They set up the Consulting Association after the collapse of a discredited predecessor body, the Economic League. The eight contractors set up The Construction Workers Compensation Scheme in a bid to make a clean start, although not without criticism along the way. [e.g. See previous report here.]
Got a story? Email news@theconstructionindex.co.uk