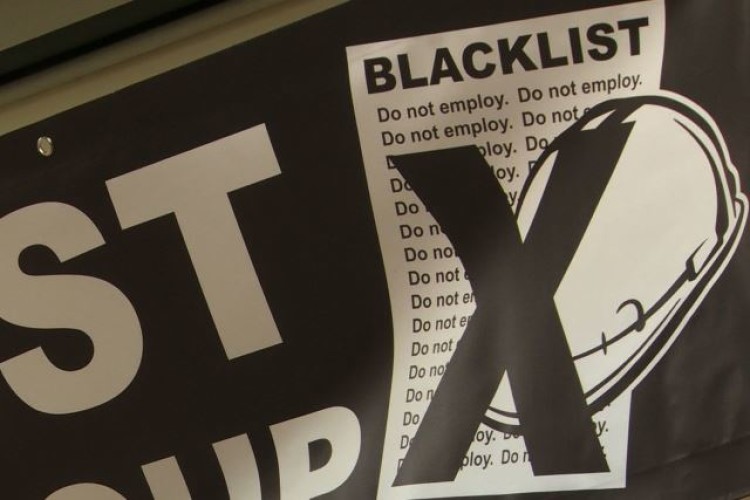 The eight major construction companies being sued for running an illegal blacklisting operation have admitted liability, according to statements issued by trade unions driving the prosecutions, GMB, Ucatt and Unite.
The case is currently going through preliminary stages in the High Court. The claims were served by law firm Leigh Day for GMB members on 27th November 2013. GMB's claims were joined with a further 449 claims by other unions and parties at a High Court hearing in July 2014. There was a directions hearing on all 571 cases on 17th December 2014, 13th February, 14th May and 14th July 2015. The employers have to disclose information to claimants by end of October 2016 pending the full trial in 2016.
Blacklisting came to light when in 2009 the Information Commissioner's Office seized a Consulting Association database of 3,213 construction workers and environmental activists used by member companies to vet new recruits.
Ucatt described the admission of liability by the companies (Balfour Beatty, Carillion, Costain, Kier, Laing O'Rourke, Sir Robert McAlpine, Skanska UK and Vinci) as "a massive breakthrough".
According to a statement release by Ucatt, the companies have admitted that through the Economic League and the Consulting Association they infringed workers' rights to confidentiality, privacy, reputation and latterly data protection.
They have also accepted, with a matter of regret:
•          That their actions had consequences for certain workers in terms of lost work opportunities or refusals to work and it had an impact on their personal lives.
•          The vetting information was collated and used in secret without the workers concerned having any opportunity to correct or challenge its content.
They have also offered an unreserved apology for their involvement for any adverse employment consequences.
The High Court case will continue, however, as the companies do not accept the loss of earnings that the victims of blacklisting suffered.


Ucatt acting general secretary Brian Rye said: "This is a highly significant step forward in the battle for blacklisting justice. Finally the companies have admitted their guilt and have begun to apologise. However we will continue fighting until justice is achieved for all our affected members."
Spencer Wood, senior partner at solicitors OH Parsons, who is representing blacklisted Ucatt members, said: "We are proud to support Ucatt and their members in their continuing struggle for justice concerning the appalling blacklisting scandal. This admission and apology from the main blacklisting companies is a big step in that fight. The litigation will continue until all our clients have obtained the justice they deserve."
Maria Ludkin, GMB national officer for legal and corporate affairs, said: "The admission of liability for defamation by major construction companies, including Carillion and Sir Robert Mc Alpine, applies to all cases including those for GMB members. It is a testament to the aggressive legal strategy GMB has pursued.
"The fact that the companies have acknowledged the distress and anxiety caused to workers and their families now gives us a firm basis to make sure members are given the very substantial compensation they deserve, and that the true nature of the secretive Consulting Association is known.
"Even though it has taken years of fighting in the High Court, the companies have now acknowledged that they infringed workers' rights to confidentiality, privacy, reputation and data protection, which is an important battle to have won. The next fight is to ensure the companies are properly held accountable so that this cannot happen again."
The Unite union said that its members could expect a larger pay-out than members of the other two unions because it secured an additional admission that its members had been defamed. This additional admission of defamation also stops the firms involved from hiding behind 'non-disclosure' meaning Unite members can continue to seek answers on how and why they were blacklisted.
Unite director of legal services Howard Beckett said: "Unite members can expect to not only receive personal apologies and offers of redress but also larger pay-outs because of the admission of defamation. The admission of defamation allows Unite to continue to seek answers from the firms involved."
Unite assistant general secretary Gail Cartmail said: "Blacklisting is a scandal that has ruined lives and led to hardship and misery for thousands of people. The admissions from the blacklisters and the damages for the blacklisted are an important step on the road to justice in righting that wrong.
"That road won't be completed though, or the stain of blacklisting removed, until there is a full public inquiry and the livelihoods of the blacklisted restored by the firms involved giving them a permanent job."
Got a story? Email news@theconstructionindex.co.uk