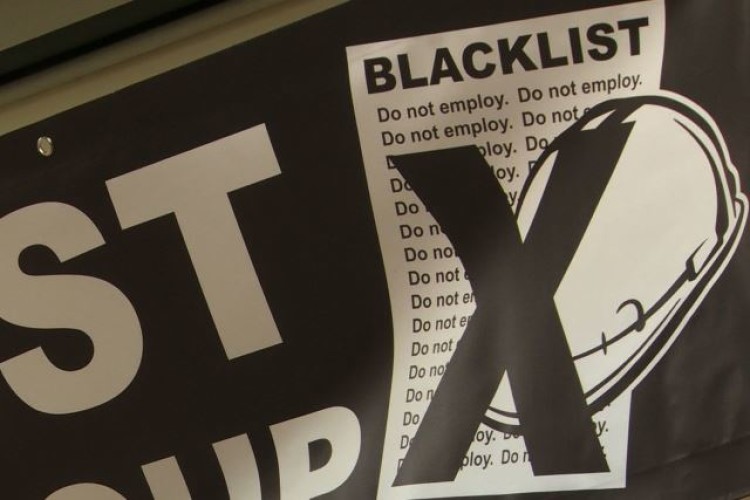 As the High Court hearing into the use of the illegal blacklist by major construction firms begins today, the GMB union is setting out on what it calls its 'national Crocodile Tears tour', to shame the 63 individual managers that used the Consulting Association blacklist or placed construction workers upon it.
The tour starts in Darlington on Tuesday 21st October at the office of Cleveland Bridge personnel director Lynne Day. In the first leg of the tour, a further nine construction personnel managers will be visited. Some are no longer in the construction industry but have been tracked down to their new places of work. One, for example, is now a lecturer at Reading University.
The plan is for a demonstrator in a crocodile suit to be accompanied by union members with flags and banners bearing such pointedly emotive slogans as 'Nuremberg defence on blacklisting won't wash'.
'Nuremberg defence' is a reference to Nazi war criminals who at the subsequent Nuremberg trials in 1945-46 pled that they were only following orders.

The demonstrations come as law firm Leigh Day resumes action in the High Court in London seeking compensation for 122 GMB members blacklisted by Carillion and other construction employers. The claims were served on 27th November 2013. GMB's claims were joined with a further 449 claims by other unions and parties at a High Court hearing in July 2014.
GMB national officer Justin Bowden said of the demonstrations targeting individual managers: "They might have thought they had got away scot-free, so shedding crocodile tears now for the systematic blacklisting of 3,213 building workers and environmentalists won't wash, neither will the Nuremberg Defence of 'just following superior orders'.
"These so-called HR professionals who ran the blacklists for the construction companies knew exactly what they were doing and they need to either apologise, come clean and say what they did, or get used to accounting in public for the damage they did to those they blacklisted and their families, especially with the public inquiry Labour has pledged after the next election.
"Just as the construction companies who paid their wages are being called to account in parliament, the courts and the media, every single one of these secret blacklisters will have their role dissected in public."
Got a story? Email news@theconstructionindex.co.uk