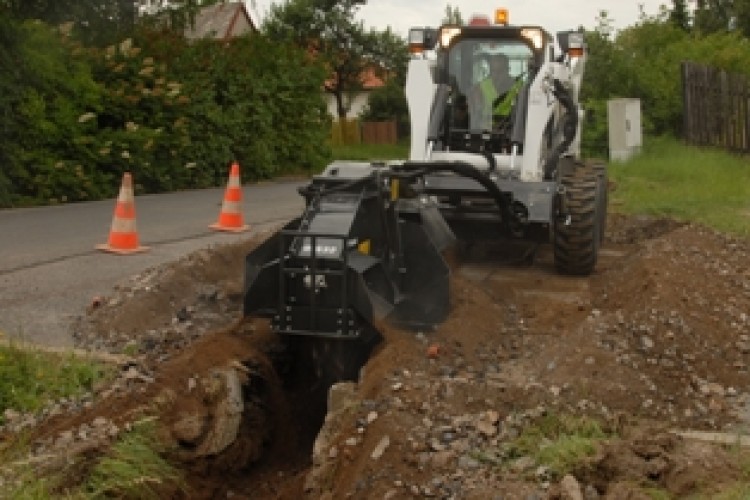 Fixed trenching width is 250mm while the depth can range from 450mm to 800mm.
Weighing 1440kg, it is approved for use on the new Bobcat S850 skid-steer and T870 compact tracked loaders equipped with the high-flow option. The WS32 wheel saw has a height of 1802mm, width of 1650mm and is 2386mm long. The maximum wheel rotation speed is 95 RPM.
Applications include fixed width trenching for utilities contractors. It can be used for creating excavation sites and for slot cutting. The WS32 can also be used for maintenance work, including trenching vertical edges for road and pavement repairs.
The WS32 is always operated in reverse drive, with the trench spoil being evacuated through four side gates with spoil deflectors fitted as standard to push the milled material away from the trench. Depth control as well as side-shift functions are hydraulically controlled from the comfort of the operator's seat in the cab, from where they have a good view of the depth gauge on the wheel saw.
A new attachment control system valve with a built-in hourmeter and a new hydraulic valve both add to performance, Bobcat says, as does the high-torque direct-drive piston motor.
Got a story? Email news@theconstructionindex.co.uk