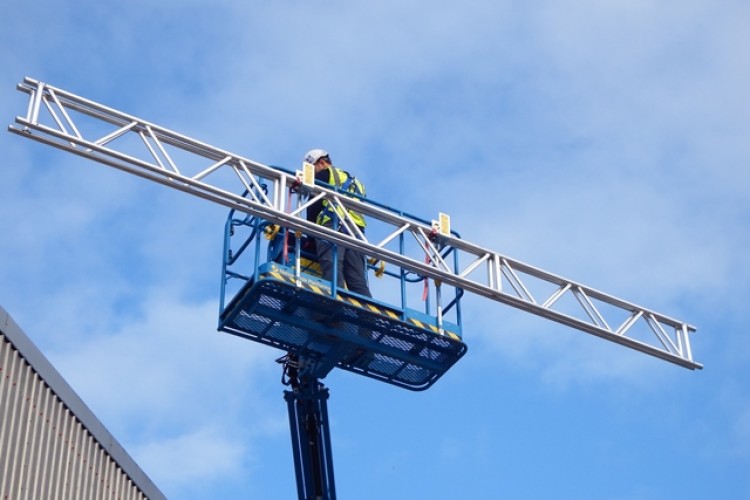 Nationwide Platforms has developed the attachment in conjunction with FASET (Fall Arrest Safety Equipment Training), the trade association for safety net rigging and temporary safety systems.
SkyRakEdge, a continuation on the company's SkyRak range of safety products, prevents the need for scaffold tubes to be placed on the handrails of the man basket. It can secure up to nine scaffold tubes with maximum lengths of six metres. The heads that are used to hold the tubes can be rotated when not in use to allow for a clear deck.
SkyRakEdge was designed by Nationwide Platforms' R&D division, BlueSky Solutions, in response to a request from an edge protection specialist. The new product is compatible with all Genie booms with either 6ft or 8ft single-entry baskets, ranging from 45ft to 135ft platform heights.


BlueSky director Paul Marks said: "The handling of edge protection components and taking them to height safely has historically been a challenge for the industry. We recognised this and worked with FASET and its members to find a solution. We had to design SkyRakEdge in such a way that it was both practical and that it would not snag on netting or scaffolding. The result is a product that has addressed the main hazards and challenges by enabling the safe and secure handling of specific components used in the industry.
"SkyRakEdge provides a logical working procedure for their installation at height and is supplied with a user operating manual that details its capabilities and will help operators to draw up a detailed method statement. When installing materials from a MEWP, SkyRakEdge should help operators to satisfy PUWER, LOLER and HSE guidance and requirements."
Got a story? Email news@theconstructionindex.co.uk